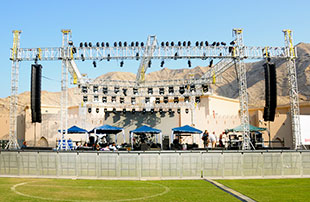 Tom Jones recently performed a live concert at Shangri-La's Barr al Jissah Resort & Spa in Oman as part of his world tour.
Production duties for the event were handled by Muscat-based Talentz Centre (the largest production operation in Oman), whose expertise in large-scale events extends throughout the Gulf region including the UAE. The company has invested significantly in Outline Butterfly systems with MD, Baltazar Fernandes, quoting consistency, quality and flexibility as key factors in his company's ability to handle visiting international acts.

The company used its Outline Butterfly system, comprising 12 cabinets per-side flown as main LR plus four Outline Mantas enclosures per-side for down fill and 16 Subtech 218 subwoofers for low-frequency reinforcement. The system was powered by Outline T-Series amplifiers.
'Outline has always been my first choice when it comes to PA,' says FOH engineer/producer Matteo Cifelli, whose credits include Mike & The Mechanics, Blue, Zucchero and Il Divo. 'After years, and hundreds of shows doing FOH for Sir Tom Jones, I have used every kind of PA around the world. The difference in quality when putting my mixes through a Butterfly or a GTO system is astonishing. All the details that you miss with other systems are present – the vocal clarity is outstanding and the overall results are so good that the audience, promoter, manager and artist all have big smiles on their faces. They can all hear the difference; it's obvious.'
The concert was staged at the resort's amphitheatre for an audience of more than 3,000 and marked a return visit after a show three years ago. Aged 73, the legendary performer sang his classics including 'It's Not Unusual', 'Delilah', 'Kiss' and 'What's New Pussycat', all aiming to rock the local and international expatriate audience.
More: http://talentz.net
More: www.outline.it