The refitting the Brisbane and Melbourne studios of the SAE Institutes has seen 48-channel ASP8024 mixing consoles installed in both – ready to take a central role in the schools' audio engineering programmes.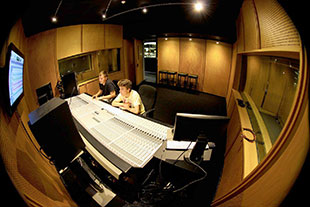 'Each of the facilities had a definite idea of what they wanted,' says Brisbane Senior Studio Technician, Louisa Lachi. 'When we were looking for a replacement, we needed a console that was future-proof, sturdy, looked sexy and sounded great.'
'We needed a console that will be able to withstand almost constant use all year round, along with being stable and built with quality components that will last,' agrees Brad Toan, Studio Technician in Melbourne. 'As audio engineers we also want something that sounds fantastic and was easy for students to use and get their heads around.
'We also wanted the "wow" factor of a large format analogue console, which is exactly what they've now got with the Audient ASP8024,' he continues. 'With 48 channels and dual-layer control, the desk certainly makes a big statement. 'It looks fantastic in the room, it's a very clean looking design. The console's signal flow and versatility was a big pro for us, and the inclusion of the DLC [Dual Layer Control] module really adds to its flexibility.'
Back in Brisbane, Associate Lecturer Akshay Kalawar is also in agreement: 'It's the perfect blend of old-school analogue workflow with a new-age approach to mixing via the DLC module,' he says. 'For the size of the console, the simplicity in the layout and functionality is second to none. Our Audient is being used to introduce students to complex session handling using a large console.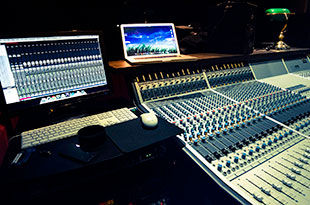 'We have two live rooms that are isolated and are on two opposite sides of the control room. This layout, coupled with a comprehensive industry standard patchbay provides a perfect real-world scenario for our students to put themselves in the right mindset.'
Kalawar teaches the Bachelor of Audio Production and Diploma of Sound Production students, who are honing their engineering skills using the Audient desk. 'The ASP8024 is clean and transparent, providing a wonderful avenue for students to strive hard to get their sounds right at the source,' he says.
'Personally, I love how flexible the internal routing is,' Toad offers. 'It provides the flexibility to work the way you like to work. I also love using the DLC; it becomes very helpful in those large sessions when you need to do some automation quickly on a vocal track. The EQ sounds great, too – you can really dial-in on problematic frequencies with its tight Q values. The preamps are transparent and clean giving you a great sounding signal already when it hits your DAW.
'I am positive it will prove to be a fantastic addition to the SAE Melbourne campus,' he says.