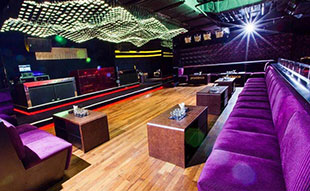 The newest player on Kuala Lumpur's bustling clubbing scene, Provinence promises a VIP encunter with Malaysia's 'decadent and luxurious premium nightlife' with its plush interiors, table service and bottle-popping culture.
Opening its doors at KL's Intermark, Providence reckons to add a taste of Vegas to Malaysia, targetting aficionados of style and the new generation of elite partygoers and A-listers. The club's concept follows Massive Goliath's portfolio of VIP venues and celebrity hotspots, including the Filter Members Club and Mink that opened in Singapore two years ago.
The club's audio installationwas handled by Next Integration Engineering, the Next-proaudio distributor in Malaysia. Calling on the company's the X-line speakers, is comprises six X15 loudspeakers, six X12s, eight X8s, six XH18 subs, four XS118s and six XS12s. The system is powered by Next MA series amplifiers.
Already making its mark among KL's party destinations, Providence's sound system is complemented by a state-of-the-art audiovisual system, and brightened up by the first OLED lighting system on the Kuala Lumpur club scene.
More: www.next-proaudio.com