Taking the music and story of Frankie Valli and The Four Seasons to Utrecht, the musical Jersey Boys has arrived at the Beatrix Theatre – the first foreign language production of the show.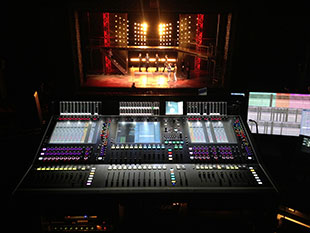 With sound design by Steve Canyon Kennedy, the production's sound system was supplied by Orbital Sound, and calls on a Meyer Sound Mica compact line array system supported by d&b audiotechnik E0 compact speakers, and a DiGiCo SD7 mixing console at front of house.
'Jersey Boys today is in a place that we couldn't have dreamed of eight years ago when it first opened on Broadway,' says the show's Associate Sound Designer, Andrew Keister. 'There have been some fairly seismic shifts in terms of the equipment available to us, and we have undergone a slow evolutionary march towards this latest production, which is different in virtually all respects.'
'Each step along the way has given us either a higher degree of quality to the sound or greater degree of control over the performance. The majority of the speaker system is a Meyer Mica array – an extremely precise and powerful system – which we have been using for the past four years and are very happy with. It provides an ideal combination of power and throw for a musical like Jersey Boys, without any compromise in terms of output and frequency response. Processing for the audio is all handled via the Meyer's Galileo system, which has a great set of unique filtering tools and gives us excellent control. We are using a DiGiCo SD7 console feeding around 110 inputs to the Meyer Sound Galileo [loudspeaker system controller].'
'The venue is interesting, giving us a bit of a challenge with regard to the balcony – it was added to the theatre at a later date, sits relatively low compared to the stalls level, and then the ceiling above the balcony is quite low too,' Keister continues. 'The result is there are some fairly narrow slots to push the sound through, some of which we could design around with the line array but some needed a more extensive set of delays.'
The show calls on a cast of 16, together with a nine-piece band using Sennheiser 5212 radio mics with 3732 receivers and DPA microphones.
'Most of the band appears on stage wirelessly at some point, and we use DPA 4099 mics, the H variant, for the horns, and a custom-made adapter for the guitars and bass to get the impedance at the correct level to go into the 5212s,' Keister adds.
More:
www.orbitalsound.com