Recognising that modern loudspeaker systems require considerably more sophisticated control than those of the past, Outline has announced a dedicated website for its iMode platform.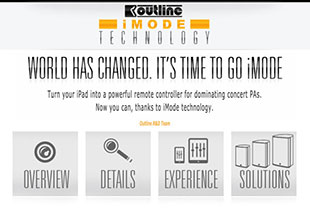 In developing iMode, Outline sought to streamline the interaction between system engineers and loudspeaker systems. This raised the question: 'how could control be made easier, more enjoyable and more powerful than it had ever been in the past?' And another: 'is it possible to control a line array (completely) with just a tablet, and no other kind of aid?'
These considerations form the basis of Outline's iMode – an intelligent digital loudspeaker multi-control platform – and are also at the heart of a website that intends to ensure that the technology involved is fully understood.
'The story behind the technology is told (in two languages),' says Outline's Michele Noselli. 'The style is as narrative as possible, in order to take one step at a time to understand exactly why iMode offers the solution. Even if obvious, the suggestion is to start at the beginning (Overview). There are four large buttons on the home page, which lead visitors to four thematic areas (Overview, Details, Experience and Solutions). Nothing else…
'We hope that the site's design, based on this layout, reflects the simplicity at the base of the iMode concept. On the other hand, turning iMode into actual products was not so easy: it required resources, passion and (brilliant) intelligence, all factors that – modesty aside – there has never been a shortage of at Outline.'
Engineer Daniele Pagani led the iMode project at the Brescia manufacturer's R&D department: 'iMode is the response to the corporate mission announced before the arrival of the new millennium. The need, flexibility and enjoyment of putting the control of an entire system at engineer's fingertips was discovered in Outline even before the arrival of mobile devices, which provided the missing link between the iMode project and the IT world. The most stimulating aspect is that this interaction will continue to evolve, offering Outline – and us designers – the opportunity to experiment and realise new forms of control and sound reinforcement system management, while users are ensured a platform structured in such a way as to avoid "ageing". In a word, it's great know that you're investing in something that one day will be able to be updated with just a click... but I won't go into any further details – I'll leave that to outlineimode.com…'
More: www.outlineimode.com