The Monterey Jazz Festival is one of the world's longest-running jazz festivals, and has featured some of the genre's greatest artists since its inception more than 50 years ago. Audiences now top 8,000 at the arena stage alone, and expect A-list artists and sound to match.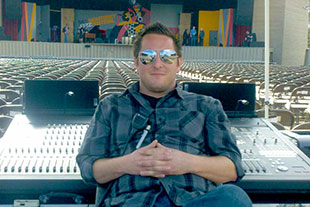 The activity backstage is usually chaotic as several guest engineers raid the festival's equipment inventory to find mics best suited to each performance. Among them is Nick Malgieri, one of the festival's freelance audio specialists, who always reaches for the mic he says he trusts most – DPA's d:screet 4060. Along with natural sound, the mic's low profile makes it almost invisible to both performers and audience.
'I am really happy to be responsible for the main stage, because I have first pick of what mics I want to use,' says Malgieri. 'Because jazz musicians all have opinions on microphone placement and prefer something low profile, I love the DPA 4060. It removes that visual barrier for performers and audiences, so they don't notice the microphone is there. That means I get to do my job and put the mics where I want them."
Originally designed for live theatre and close-miked instrument applications, the DPA 4060 has an accurate omnidirectional pattern, and therefore does not need to be aimed directly at the instrument to achieve quality pickup. While Malgieri uses the 4060 primarily for the piano, he relies on it to meet his needs amplifying the pure sound of many diverse instruments at the jazz event.
'Every year there's at least one act that is a large band, especially with a lot of percussion, and loud stage volume,' he eaplains. 'Traditionally it's a really difficult environment for sound engineers, particularly monitor engineers. For the DPAs to work well in that environment really speaks to their versatility.'
Malgieri often finds himself sharing his set-up with fellow engineers backstage, who at first may question his choices until they hear the difference in a live performance: 'The 4060's achieve great gain before feedback,' he says. 'Some engineers underestimate the power of an omnidirectional microphone to handle the job for a large stage. They are more used to directional microphones that have less stage bleed, but once they hear the real instrumental tone on a large PA system, they realize the DPA d:screet 4060 sounds more natural than any other microphone, and then they change their minds and are eager to try DPA themselves.'
Founded by San Francisco jazz radio broadcaster Jimmy Lyons in October 1958, the Monterey Jazz Festival features more than 500 artist performances on eight stages for three nights and two days at the Monterey County Fairgrounds in Monterey, California. The annual event is one of the longest consecutively run jazz festivals.
More: www.dpamicrophones.com