Alongside degree courses in the liberal arts and engineering a member of the intercollegiate Patriot League, Lafayette College has an active sports and recreational programme supported by facilities including Fisher Stadium, home to the Lafayette Leopards football team.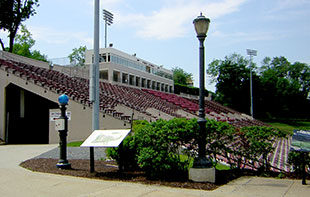 The Easton, Pennsylvania, stadium underwent a major renovation beginning in 2006, extending its seating, updating its lighting, and adding a large press box and a 19-ft x 35-ft video display. The renovation also included sound system upgrades, but the upgraded system did not provide even coverage in the new seating areas and it had neighbourhood noise issues. In addition, many spectators complained that the new subwoofers seemed overpowering.
As a result, Lafayette was obliged to call in Communication Systems Inc (CSI) to redesign the system. Wayne Becker of Communication Systems says that some of the existing loudspeakers, including the four Community R.5-94Ts covering the visitor seating, and a pair of Community Wet loudspeakers on the press box, were simply re-aimed to improve coverage. However, he added two new Community R2-94 loudspeakers on the press box to improve coverage in the home team bleachers and disconnected the system's subwoofers since the R2s provided adequate bass performance on their own. In addition, at the school's request, Becker added four new Community R.5-94Ts on a lower wall facing the field for use during practice.
The new system includes coverage of the tailgating area outside the stadium and improvements in the private suites inside the press building. A Biamp AudiaFlex with daVinci software provides touch-screen presets for 'pregame' and 'game' configurations along with zone level controls and DSP delay for the visitor seating loudspeakers. Existing amplifiers were reused to control costs.
Becker says the school is very pleased with their upgraded sound system. 'Announcements are clear and intelligible,' he reports. 'We've solved the neighbourhood spill problem. And, the coaches got 110dB on the 50 yard line to simulate crowd noise during practice.'
More: www.communitypro.com
More: www.biamp.com