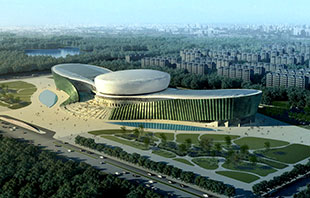 Combining green credentials with the ability to withstand 'substantial' seismic pressures, China's Handen Culture & Arts Centre is a groundbreaking demonstration of concrete and steel architecture. Part of the complex, the Grand Theatre is equipped with a multichannel distributed speaker system controlled by TiMax SoundHub in order to s meet world-class sound reinforcement standards.
Working with system integrator Beijing Rangl Audio Co, Sound Works & Supplies devised the system to serve to the demands and challenges the venue presented. The theatre is served by a d&b loudspeaker system that operates in conjunction with a 16x16 TiMax2 SoundHub audio delay matrix for overall system management, zone level control and equalisation, in addition to the TiMax speciality of delay-based localisation.
Above the stage, a central d&b Qi1cluster is flanked left and right by clusters of d&b Qi1 and Qi7, and supported by a combination of d&b B4-Sub and d&b B2-Subs. The system is driven by d&b D12 and D6 amplifiers. Additionally, 12 d&b E0s provide fill, with eight d&b 8S as rear fill – powered again by D6s. Fixed stage monitoring is by 13 d&b 8S, while a further eight cabinets are available as mobile stage monitors.
Sixteen d&b 8S are distributed around the auditorium, with a further 12 supplying the first-floor balcony and another 12 for the second tier. Ceiling effect speakers are d&b Max12 and d&b B2-Subs. Again, powered by d&b D12 and D6 amplifiers.
'The installation has been very successful – the theatre is now able to present productions technologically equivalent or even superior to any show that can be seen in the West,' says Freddie To, of TiMax distributor, Sound Works & Supplies.
More: www.sws.com.hk
More: www.outboard.co.uk