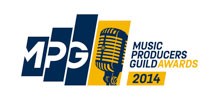 Voting for the 2014 Music Producers Guild Awards is now open. All Full Members of the Guild are entitled to take part in this process and their votes will decide which nominees make the shortlist in 12 of the 15 award categories.
'Once again, our call for nominations has generated a fantastic response and we're thrilled to see such a diverse range of projects and individuals on the list,' says MPG Chairman Steve Levine. 'In the five years since we launched the MPG Awards, we have seen a steady increase in the number of nominees. This indicates just how coveted an MPG Award is to those recording professionals who work so hard to create the music that we all enjoy."
The Music Producers Guild Awards fly the flag for the achievements of the UK's top producers, engineers, remixers and mastering engineers.
In total there are 15 award categories, three of which are in the gift of the MPG Awards committee. However, MPG Full Members are entitled to vote for the following categories and are encouraged to do so before the closing date of 1 December 2013:
International Producer of the Year
Breakthrough Producer of the Year
Recording Engineer of the Year
Breakthrough Engineer of the Year
Mastering Engineer of the Year
UK Single Song Release of the Year
The shortlists for the MPG Awards will be announced in December 2013, with judging for the final winners taking place in January 2014. The awards will take place at the Park Plaza Riverbank Hotel in Vauxhall, London, on 13 February. As in previous years, the winner of the MPG UK Producer of the Year category will also be awarded the BRIT Award for Best Producer.

As an additional voting incentive, KMR Audio has donated a Dave Hill Designs Europa 1 mic/line preamp, which will be offered as a prize to one MPG Full Member at the end of the voting process. Every Full member who votes in all of the award categories will be entered into a prize draw for this Europa 1. The winner will be announced in December at the MPG Christmas Party (date and venue TBC).
More: www.mpgawards.com