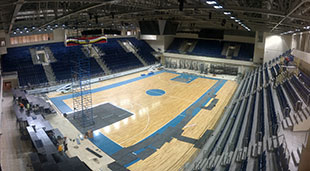 A new sports and concert centre in the Russian city of Kursk, the Kursk Arena houses 12 sports halls including a 3,000-seat hall intended for events ranging from professional sports competitions and music concerts to Christmas shows. The sports halls provide facilities and equipment for basketball, boxing, aerobics, dance sports, weightlifting and powerlifting. The centre also houses a billiard room, restaurant, dining room and several bars.
Central to the technical aspects of the development, Light.Sound.Contractor took charge of the design and installation of the lighting, sound, trussing, hoists and sound control systems. The venue is equipped with a Next-proaudio sound system, comprising 20 CXH-64 loudspeaker cabinets, nine Next CXL-15 cabinets, two NSound P15mA cabinets, and four NSound P15 and four NSound P12mA cabinets. The system is powered by four Next PXA 8000 four-channel digital amplifiers with built-in DSP.
The arena's opening was attended by Deputy Minister of Sports, Pavel Novikov, along with the governor and other executives of the region: 'I've seen a lot of similar venues, but this sports and concert centre is wonderful and functional,' he said. 'It will serve both the elite sport and the local community, because it is a beautiful concert venue.'
'This is a good gift for Kursk athletes, and the city and region in whole. The venue will be the base for both team sports and other events,' Kursk Region Governor Alexander Mikhailov added.