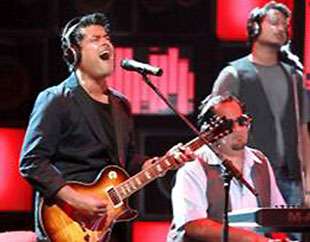 Showcasing a fusion of India's best musical talent, the Coke Studio at MTV India TV show has entered its third season with another round of musicians from different genres jamming together and recording the results of their collaborations.

With more than 40m million viewers tuning into the second season, the format has brought in composer AR Rahman and top artists like Sivamani, Amit Trivedi, Clinton Cerejo for listeners across the globe. While AR Rahman is a global endorsee for JBL, Sivamani is an AKG endorsee.
The show is supported by production company Flying Carpet Productions (FCP). Led by Audio Director Ashish Manchanda, the company called on sound reinforcement specialist Sound.Com for artist and production monitoring at the shoot and rehearsals.
'With More than 200 musicians and over 45 original songs, Season 3 of Coke Studio at MTV presents a plethora of musical flavours, enthralling audiences with unique combinations of music genres and versatile musicians,' says Manchanda. 'Thanks to microphones and headphones from AKG and Soundcraft mixing consoles, we are able to capture life-like performances – be they vocals or instruments.'
Sound.Com has provided the audio equipment and backend support for the stage equipment set-up, along with RF technicians. Together Ashish Manchanda and Sound.Com MD Warren D'souza chose Soundcraft's Vi 6 console for audio mixing, with a Soundcraft Vi1 as a sub-mixer for larger acts. JBL LSR 4328s are in use for monitoring during recording.
'We have the experience and equipment for the artists and producers to deliver successful productions that are enjoyed by the viewers,' D'Souza says. 'Our synergy with Flying Carpet Productions is a testimonial to our work on MTV Unplugged and Coke Studio, and we will continue to deliver our best by exploiting technology to the limit.'
'The Vi6 console has a remarkably intuitive interface which made it easy to handle almost 60 inputs on each episode of the show with relative ease,' says Mark Thomas, Systems Engineer for the project. 'We chose to work on the Soundcraft Vi6 this year due to its ViSi iPad app. During the recording sessions each musician in the house band was given control over his/her mix using an iPad.This enabled them to tweak their mixes for every song, based on their individual requirements, while the engineer concentrated on the in-ear monitor mixes for the guest musicians and singers. We used up to 12 iPads simultaneously on the Salim- Sulaiman episode, without a single re-sync issue or network glitch.'
'As far as monitoring is concerned for the series, the amount of inputs we had to cater to was challenging. The Soundcraft Vi6 definitely made life simple in terms of monitoring, having the flexibility to make all of the busses into auxiliaries as per the requirement of individual producers,' adds Ezekiel Tyle, Monitoring Engineer for the show. 'It was an absolute pleasure to work on this board.'
The show uses an assortment of AKG equipment, including AKG DSR 700 V2 wireless systems, and D7 and D5 microphones for backing vocals. Other microphones include C414s for drum overheads and piano, and C451s for cymbals and guitars. C414s are used on everything from percussion/drum overheads to shakers and piano, while the AKG D 112 was chosen for low end of the Cajon, kick drum and duff. For consistency, all artists on the show use AKG K171 MkII headphones.
'This association exemplifies Harman's commitment to quality and our ability to deliver on any stage,' says Prashant Govindan, Director of India Operations for Harman Professional. 'Harman's AKG, Soundcraft and JBL products, combined with the experienced professionals from Flying Carpet Productions and Sound.Com, provided perfect and reliable sound for yet another successful edition of Coke Studio at MTV.'
More:
www.online-sound.com
More:
www.jblpro.com
More:
www.akg.com
More:
www.soundcraft.com