Built at the cost of €23.8m, the Support Center of Culture & Creativity (CPKK) is the legacy of the eastern Slovakian city of Košice's success in its bid to become the European Capital of Culture, 2013. The centre occupies a regenerated military barracks, which was equipped for sound by Rock Centrum, Martin Audio's local distributor.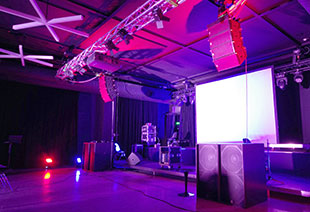 The mainstay of its public address system is built around 20 Martin Audio W8LM elements (in two hangs of ten per side), with two W8LMD down fills at the base of each hang. Providing LF extension are ten WS218X subwoofers. In addition, 14 Martin Audio Blackline F12+ and six F15+ are used for floor monitors and side fill respectively. The system is driven by six Powersoft K10 amplifiers and ten Powersoft K2 modules, with three Allen & Heath ILive T112 and T80 handing the mixing duties. Together with various stageboxes and other peripherals, these were also supplied by Rock Centrum.
The system has been designed so that it can be used either independently, or as separate systems in the indoor halls, and as the main sound system in the courtyard of this complex. For example, when used in the two identical 500-capacity halls simultaneously, the system is split into two. Also, hangs of eight W8LM/D can be flown above the courtyard stage, along with six WS218X – and this can be extended in the event of larger outdoor events, to take in the full system.
This enables the leisure complex to host a versatile programme of concerts, workshops, lectures, performances, screenings and exhibitions. The sound system was officially launched at the main opening ceremony concert by the band Pražský výber.
Rock Centrum says that the W8LM line array is 'proving very popular and that its reputation for delivering excellent sound quality is spreading quickly'. Meanwhile, the distributor is celebrating its own 21st anniversary, reflecting on a long line of sound project successes throughout the region.