The third-largest TV studio in Israel, Channel 10 has taken a Studer Vista 9 digital mixing console as part of an upgrade to its equipment necessitated by the studio's relocation from Tel Aviv to Jerusalem, due to Government regulation.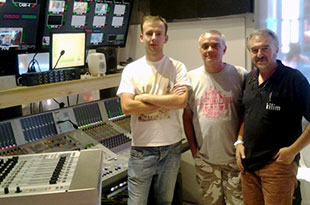 Replacing an older analogue console, the Vista 9 installation also brings back-up and technical support from Studer's Israel distributor Kilim Electronics, led by MD Meir Kilim. Yaron Heizler, head of sound for JCS Studios (host of Channel 10) oversaw the integration of the Vista 9.
'Another asset that convinced the studio's technicians was VistaMix,' Kilim reports. 'They were immediately impressed by this function, and it worked wonders in terms of increasing the clarity of our broadcasts.'
VistaMix was designed to clean up the mix of unscripted broadcasts such as multi-participant talk shows. Since programmes of this nature inherently suffer from both microphone spill and background noise, VistaMix intelligently increases the mic gain on the active speaker almost instantly, while reducing that of the inactive ones. This solves the problem and creates a balanced mix.
'We also favoured the Vistonics interface over any other UI we have tried in the past, since it is so quick and easy to operate,' Kilim adds. 'It is also very easy to understand, which is critical due to our high technician swap rates. Most of them have only operated analogue consoles until now.'
More:
www.studer.ch