Chem19 Studios has installed an SSL AWS 948 Hybrid Console/Controller in its Studio 1. Located just outside of Glasgow, the new desk will run with the facility's Pro Tools HD2 DAW as the centrepiece of its operation as a commercial recording studio and in-house facility for artists on the Chemikal Underground record label.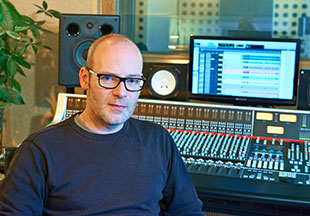 'When I put this studio together in 2005, I wanted a place where bands would feel very comfortable putting down live tracks,' says producer and studio owner, Paul Savage. 'When our older analogue console needed replacement, I jumped at the opportunity to have an SSL console here – the sound quality of the AWS fits in perfectly with our ethos.
Since re-opening as a creative environment for high-level recording in 2006, Chem19 has played host to artists including Calvin Harris, Franz Ferdinand, Mogwai, King Creosote and Deacon Blue.
'Using the AWS helps the creative atmosphere in the studio because we know each track will sound great,' Savage continues. 'If we use outboard to get a particular sound or use the AWS mic preamplifiers for tracking, then mix through the AWS, our clients need not worry about how the tracks will sound. They only need to concentrate on performing. Clients are already coming in looking to work on the SSL and that is good for business.
'On the very first pass with the AWS the mix opened up and suddenly I had weight and power that I didn't have before. The strange thing was that I expected the sound to be extremely clean and polite, but the reality was, yes, clean, but with depth and detail that was amazing. I was getting this sub bass that was monstrously huge. The AWS has widened the spectrum for mixing and the bands love it.'
The console's recall system is a favourite feature, as it helps to streamline workflow: 'The Total Recall is, in a word, great,' Savage says. 'How many hours did I waste writing everything down, then having to translate the paperwork settings back onto the old console? If a band is tracking, but wants to revisit a mix, I can do this quickly and accurately with the AWS. I believe in capturing great music performances and turning them into great finished tracks. I also believe that my clients deserve the quality of an SSL product. The AWS is an agile tool that makes getting the right sound very straightforward.'