The Netherlands' most prestigious cinema combines an imposing original Art Deco exterior with equipment and acoustics in keeping the expectations of 21st century filmgoers. Most recently, the Pathé Tuschinski in Amsterdam has installed a bespoke Alcons Audio system, featuring the first installation of the company's new Sentinel digital amplified loudspeaker controllers.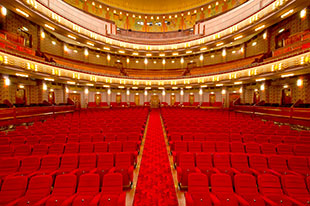 Regularly used for 'red carpet' premieres, the cinema's 740-capacity main auditorium provides a luxury film experience – as well as private boxes and 'love seats', wine and food can be ordered for at-seat delivery. Adding to the demands placed on the sound system, the venue also hosts special events, concerts and weddings.
'Due to the high profile of being the Netherlands most prestigious auditorium, the complexity and challenges created by the its unique acoustics and the many available options, Pathé chose to have an outside organisation advise them of what the best option would be,' says Matthew, GM of Dcinex, the Liege-based pan-European cinema solutions company. 'We advised using Alcons based on our positive experience with both the company and its systems. Having looked at all of the available options, Pathé also ended up recommending Alcons as the best solution themselves.'
Difficulties presented by the installation included needing a main system and subs with a maximum depth of only 30cm, but which could deliver the highest quality audio over 45Hz-20kHz for the mid/highs, and subs down to 25Hz. Another was the considerable height of the auditorium, which has two balconies, in combination with the difficult acoustics – being a listed building, no acoustical optimisation could be made.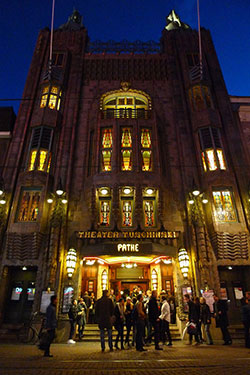 To meet these challenges, three Alcons CRA72cst loudspeakers were flown behind the screen. The CRA72cst is a dedicated version of Alcons' Cinemarray pro-ribbon line-source system with a depth of 285mm. It features nine RBN401, proprietary four-inch pro-ribbon transducers for high frequency reproduction down to 1kHz, plus nine 6.5-inch and six 12-inch reflex-loaded loudspeakers for mid- and low frequencies. It is powered and controlled by three Alcons Sentinel3 amplified loudspeaker controllers.
This main system is complemented by six CB181sl slim subs, stacked two wide by three high, with one Sentinel10 four-channel amplified loudspeaker controller with integrated processing. Surround sound comes from 26 CRS8 reference pro-ribbon loudspeakers, powered by three more Sentinel3s.
The CRS8 features a reflex-vented eight-inch loudspeaker with Alcons' multiple-patented RBN401 four inch pro-ribbon driver. Using the same component for mid-high frequencies from 1kHz upwards, as the screen loudspeakers meant that a blend could be achieved between the main and surround systems. Meanwhile, the proprietary-designed Sentinel3 delivers four channels of 750W amplification.

The Sentinel ALCs feature four-input/four-output AES3 192kHz digital inputs, enabling a completely digital B-chain, for the highest possible audio reproduction quality.
'Custom-made to the auditorium's needs, the Alcons system was the only one that could deliver the high flexibility required in the available space, while at the same time providing an unparalleled audio experience,' Jones says. 'It is capable of delivering the required SPL to even the highest seat in the top balcony, providing a great audio experience no matter where your seat is. It also has the flexibility for the section of the CRA72cst that's aimed at the top balcony to be switched-off, when that balcony is not is use.'
'We are very happy with the new sound system,' reports Tuschinski Theatre Manager, David Hanemaayer. 'It sounds great and is a big improvement over the previous system. So much so that our visitors and suppliers have also noticed that we have a new system'
'The entire system sounds stunning,' Jones adds. 'It is the perfect match for a cinema as important, visually impressive and rich in history as the Pathé Tuschinski.'
More: www.alconsaudio.com