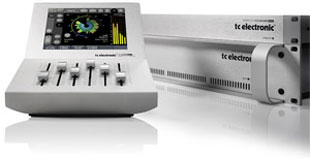 'TC Electronic and Lexicon followed the same path for a number of years,' observes the opening salvo in TC Electronic's latest signal processing initiative, introducing a crossgrade path from discontinues Lexicon units to a System 6000 MkII.
'Since the early days of digital effects, studios in need of high-quality reverb would go for either a TC M5000 or a Lexicon 300L, 480L or a few years later, a TC System 6000 or a Lexicon 960L,' it continues. 'While Lexicon discontinued 960L, TC Electronic continued to develop its System 6000 platform, turning it into far more than "just" a reverb unit. Today, it offers 42 algorithms, covering reverb, dynamics processing, EQ, delay, chorus, phaser, loudness metering, digital summing, upconversion from stereo to 5.1, noise reduction, automatic loudness control, and downmix from 5.1 to stereo…'
TC Electronic's invitation extends all 300L, 480L and 960L owners, providing the opportunity a to take a new System 6000 M-II at a US$5,000/€4,000 discount.
The System 6000 MkII comes in four variants that share the same hardware platform, but the included tools are selected for specific applications – Music Production, Film Production, Mastering and Broadcast Production.
The offer runs from 25 October 2013 to 31 December 2013, during which time 300L, 480L and 960L owners may send in their units to TC Electronic in Denmark or TC Group Americas in Kitchener, Canada to claim the rebate.
More: tcelectronic.com/50-ways