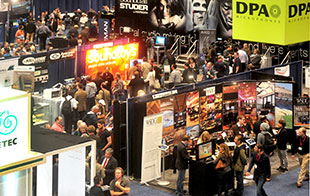 Marking its 65th Anniversary, the Audio Engineering Society reported a 'five-year-high' in registration numbers at the close of the recent NYC Convention.
Claiming 18,453 registrants, the convention was 16 per cent up on its last New York showing two years ago, and 71 per cent up on last year's San Francisco event – in part due to Hurricane Sandy.
Calling it 'the most ambitious and comprehensive schedule of workshops, panels and technical programmes in AES convention history' the show featured an opening keynote address by Josh McDermott from MIT and the Heyser Lecture from producer, technologist and multi-Grammy Award winner George Massenburg. Other speakers included Jimmy Jam and Jay-Z collaborator Young Guru, and the event was also host to the 'Sound For Picture' Deadliest Catch workshop and a Grammy SoundTables event honouring the late Phil Ramone.
'Our organising committee outdid itself, with over 250 presentations from an astounding 682 leading researchers and practitioners in the field, many of them standing-room only,' says AES Executive Director, Bob Moses. 'We took some risks with this show in an attempt to bring in lots of new blood and to maintain our position on the proverbial cutting edge, and the fact that it was such a fantastic success gives us confidence to ratchet it up a few more notches in Los Angeles next year. We'll be back in Berlin in April, and much of what made this show so great will be leveraged to breathe new life into our European convention.'

There seems to have been some good kit launched too...

See also:
Latest equipment launches...
More: www.aes.org