The latest in Pro Audio Systems' ongoing programme of seminars hosted with Meyer Sound saw US sound engineer Buford Jones recently present his Mixing Workshop at Headingley Carnegie Stadium, home of Yorkshire County Cricket Club. The event attracted delegates from as far away as London, to gain a unique insight into the world of a touring sound engineer working at the very peak of his profession.
Buford's CV reads like a Who's-Who of household names in music – David Bowie, ZZ Top, Lynyrd Skynyrd, Linda Ronstadt, Stevie Wonder, George Harrison, Eric Clapton and Pink Floyd among them – and over two days he shared many of the experiences from his 40-year career with a rapt audience.
Day one followed Buford's career from its beginnings, enabling him to using his own experiences to illustrate how far the industry has come in terms of technology, while simultaneously using personal illustrations of how a FOH engineer interacts with the artist and deals with life on the road.

While very much a learning experience (and one, incidentally, that is not easy to find), Buford's easy-going style and willingness to interact freely with his audience made provided an entertaining and informative day.
Day two was more focused on the technology and techniques of sound reinforcement in everything from theatres to vast open-air stadia. Using a surround-sound system specially installed by Pro Audio Systems for the event, comprising five Meyer Sound UPJs and a single 700-HP subwoofer, plus a DiGiCo SD10 console provided by the manufacturer, Buford covered a wide range of mixing techniques using some remarkable multitrack recordings.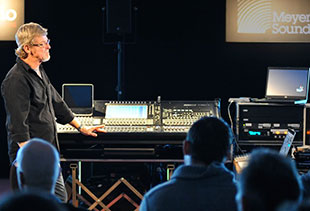 The event concluded with delegates taking on the concept of 'combat audio' where they had just ten minutes to get a basic drum mix together using Buford's Virtual Drummer, a combined video and high-quality multitrack recording of a top Nashville session man. Several guests took on the challenge, trying to incorporate Buford's teachings, and everyone present gained insight into the challenges of live mixing in a real-world environment.
Feedback from the delegates was immediate and plentiful: 'Just to say thank you so much for everything regarding the workshop. It was an excellent two days learning from a master. Tom and I definitely took a lot away. You guys did a sterling organisational job again as well. It was a pleasure to attend.'
'The workshop was great, I think myself and my team all came away with a lot of information and things to try, although what we do is not very complex I think his ways of working can translate to all situations. It was extremely informative and interesting and for those of us who have very little experience of digital desks, an eye-opener to what they can do. Please thank Buford and all the other partners for a great couple of days.'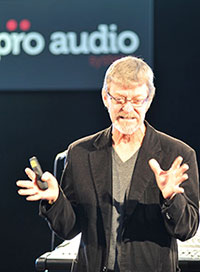 'Please can you pass on my thanks to Buford for the past two days. From the start I was captivated by him, his knowledge and I have gained so much from this. I know Mike who joined me as an add-on on Wednesday feels the same way too. Thanks too to you and the gang at Pro Audio Systems for arranging this. It was so informative and enjoyable.'
'Opportunities to learn from a master such as Buford are few and far between, and it was such a thrill for us to present just such an opportunity to a large group of friends and clients,' says Pro Audio Systems' spokesman, Dave Wiggins.

'Meyer's educational programme is acknowledged as the finest in the industry, and helping to deliver it to end-users is a core part of our long-standing relationship with them – we are continuing to develop this aspect of our business and look forward to welcoming Buford, his colleagues and many more guests to future events.'

More: www.meyersound.com