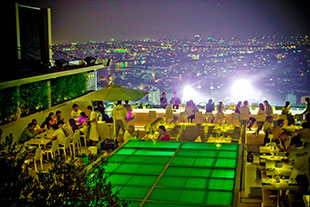 Operated by one of Turkey's leading luxury entertainment brands, Istanbul's Nu Teras nightclub has provided the setting for Asimetrik Sound, Lighting & Visual Systems to make its first high-calibre installation using Powersoft amplifiers.
Recently appointed as Powersoft's exclusive distributor for the territory, Asimetrik set to work on the rooftop venue in the Taksim area of Istanbul – installing a system comprising 12 Powersoft K2 and K10 amplifiers and an EAW loudspeaker system.
'We invested maximum effort in designing a system that can only be described as world-class in a breath-taking location,' says Görkem Çelikbilek, Electrical & Electronics Engineer and VP of Asimetrik. 'The significant challenge came from the fact that the venue is open-air and is positioned between residential buildings. Our goal was to design a system that sounds fantastic but with the minimum sound pollution.'
Asimetrik is one of the largest distribution companies in Turkey, and brings high-quality audio, lighting and MI systems to the Turkish market.
More:
www.asimetrik.com.tr
More:
www.powersoft-audio.com