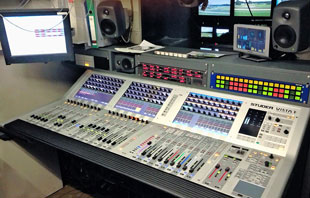 One of the largest providers of OB trucks and services in Germany, TV Skyline's work with public and private TV channels is complemented by projects undertake for various peripheral industries throughout Europe. Increasing demand for surround-sound productions, recently saw the Mainz-based company upgrade its Ü3HD truck with the installation of a Studer Vista 1 console.
The32 fader Vista 1 offers 32 mic/line inputs, 32 analogue outputs and eight AES/EBU stereo input and output channels, as well as an integrated Madi port. A Riedel RockNet card is installed in the expansion slot of the console for the truck's Riedel MediorNet system.
Among the reasons for its choice was the desk's small footprint: 'The compact dimensions of the mixer, combined with the fact that no external hardware is needed, was a huge advantage of the Vista 1,' says Jan Saueressig of TV Skyline. 'The easy access to MediorNet was another advantage that made the Vista 1 the obvious choice.
'The time we had to incorporate the new console into our service was extremely short, but we familiarised ourselves with it very quickly,' he adds. 'We already knew the Vistonics interface from using the Soundcraft Vi1, which was in our Ü1HD truck. The Vista 1 has additional options, such as surround sound and configurable DSP allocation.'
The console was first used in an eight-camera production for the Austrian Bundesliga soccer tournament in Innsbruck. The game was produced for the ORF and broadcasted by TV Skyline on behalf of Media Plaza in 5.1-channel surround. Other productions followed, including the Salzburg Festival transmission of Mahler's Symphony No.8 and the NHK Symphony Orchestra in Tokyo, which were also produced in 5.1 surround.
The Vista 1 was supplied by German distributor, Audio Pro.