The release of the VB-Audio C10-Limiter from Vincent Burel's suite of VS3 plug-ins follows field testgin by Marcel Gerardts and Jochem Geene of Studio Van Schuppen, who validated it during a number of recent DXD and DSD projects.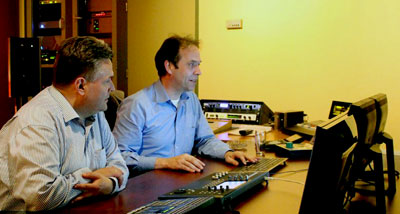 Studio Van Schuppen is located at Veenendaal, between Utrecht and Arnhem in The Netherlands, and has been using a Pyramix/Horus set-up since 2012.
'During my ten-plus years of involvement in pop, jazz and rock recordings, I struggled with how to optimally combine my high-end analogue studio gear with the flexible, yet poorer sounding, [PC-based] digital recording facilities,' Gerardts explains. 'Last year, I decided to migrate to Merging Technologies' Pyramix/Horus platform and, in so doing, entered the world of high-resolution recordings. At first, I found myself celebrating the obvious advantages of this format, but I soon found out that collecting tools capable of processing this material while preserving the intrinsic quality of the sound, was a big challenge.
'At the beginning of 2013, I discovered Vincent Burel's [VB-Audio] plug-ins, started testing them and soon found myself ordering the "full pack", as this appeared to be the ultimate solution to maintain the sonic quality of the source material, while proving more than efficient in handling all aspects of the sound.
'By then, my main problem was that not all plug-ins were capable of dealing with the DXD format I wanted to use for my projects. I especially regretted the fact the C10 Limiter did not support DXD. I discussed matters with Vincent and he decided to help me out by preparing a DXD version of the C10 as well as migrating other plug-ins. To me, the upgraded C10-DXD is the most sophisticated sound designer/mastering tool available today.
'At the heart of its engine, the extremely smooth and transparent extraction and summing of ten frequency bands provides a solid and reliable base for all per frequency band processing. Having ten well-chosen frequency bands at one's disposal, is the optimum solution in being able to separate out all the individual challenges whilst still preserving the overall configuration. Like all the dynamics modules of VB-Audio, both the compressor and limiter on each band are very efficient, controllable and transparent, and can be observed meticulously via the included monitoring screen. The extensive functionality to control the stereo image may require some experimentation in the beginning, but proves to be very subtle and effective in the end.
'Nowadays, I use the C10-DXD on a daily basis as my main instrument for shaping the overall sound of my recordings and controlling the dynamic behaviour of my productions, without the nasty side effects I've been struggling with for so many years. It allows me to achieve appropriate loudness levels in a superb way, while maintaining the detail and clarity that comes with the high-resolution format.'

See also:
VB-Audio C10-Limiter plug-in
More: www.studiovanschuppen.nl
More: www.vb-audio.com