Ranked at the head of Italy's education system, the Opera Universitaria supports academic work, sports and the arts from its base in Trento – which has recently seen the opening of a new performance theatre.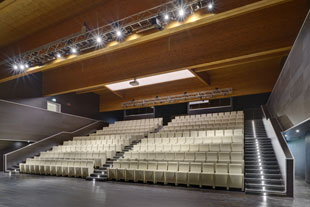 With the support of A/V integrator A&T Multimedia and distributor Adeo Group, the theatre has received a comprehensive technical installation providing control over its audio, video and lighting systems.
Opera's consultant specified that the theatre must be multi-functional – supporting the staging of plays and musicals, as well as lectures – and that the technical system needed to offer standalone use to both trained and untrained operators, without the assistance of the college's A/V department. 'Our goal was to find a digital signal processor which could directly link to a theatre-sized mixing console' says Alessandro Baroni of A&T. 'This would allow the end-user to control all audio via a simple preset recall, but should more complex mixing be needed, the console could be activated and off they'd go.'
After discussing the idea with Adeo, the integrator settled on a combination of Symetrix' open-architecture Radius 12x8 DSP for 'standard use', with a Yamaha LS9-32 mixing console for performance audio.
As both mixer and DSP are enabled with Audinate's Dante protocol, Baroni chose to connect all inputs into the rear of the Radius before linking them over Cat5e cable into the LS9's optional MY16-AUD card, and then back to the DSP again for loudspeaker processing. This allows seamless switching between 'lecture mode' and 'performance mode', and provides the means for non-technical staff to control audio via either the Radius' front-panel, or through the SymVue touchscreen control software configured by A&T's Symetrix-certified programmer.
Adeo recommended Renkus-Heinz's IC-live loudspeakers (four ICL-FRs and four ICL215S-FRs) to deliver the audio, with beyerdynamic wireless microphones (Opus 910s) allowing wire-free movement. Lorenzo Seneci of Adeo Group explains that the system 'needed to provide a very high SPL to cater for the wide range of different events, but to achieve this we would traditionally have to employ point-source loudspeakers or line arrays. However, due to the aesthetic restraints in place, it demanded a beam-steering solution'.
Panasonic projectors were also brought in to handle video content and are controlled by an Extron video distribution unit. 'The Radius' preset recall is very simple and completely suitable for the range of different situations we encounter,' reports a university spokesperson.
The new performance space has been welcomed byboth the student body and the general public.
More: www.symetrix.co
More: www.yamahacommercialaudio.com
More: www.renkus-heinz.com
More: www.beyerdynamic.de