With a portfolio that includes some of India's most successful independent restaurants in India, JSM counts the Hard Rock Cafe Mumbai and Shiro among its Mumbai highlights – and has recently invested in both venue's sound systems. The two restaurants are surrounded by movie production houses and, with the suburbs being home to Bollywood, tourists are in good supply.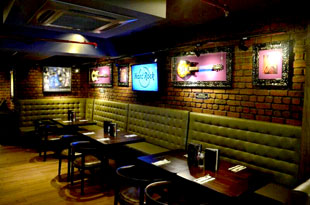 The systems in the Shiro luxury lounge, with its signature high ceilings, grand statues and award-winning Oriental cuisine, and the Hard Rock Café both feature Apex IntelliX2 48 units installed by White Eagle Entertainment.
The demands of JSM are reflected in their sound systems and choice of supplier. For this reason, JSM General Manager Darren Alvares chose White Eagle Entertainment as the preferred audio supplier.
The Hard Rock Café Mumbai has a seating capacity of 176, served by an extensive Outline loudspeaker system controlled by an Apex Intelli-X2 48, 4-input/8-output,192kHz digital system manager. The system is used for live bands and club nights almost every night of the week. At Shiro, the Apex Intelli-X2 48 is in control of a system that is used for music reproduction during restaurant hours and has to perform until late at night for the club's after dinner club lounge nights.
White Eagle Entertainment owner Arun Kalra has chosen the Intelli-X2 48 because it is one of the easiest to use and best system management systems available: 'Because of the high demands of the clubs' customers, the long operating hours of the locations and the high level of protection to all the components in the system, the Intelli series is our first choice,' Kalra says. 'By using the Apex Intelli units we are able to provide high quality, fail-safe systems for the most demanding customers.'
'We are very happy with the new sound systems. They out perform all our expectations,' Alvares adds. 'The systems sound perfect and are very easy to use.'