New to Copenhagen's live jazz scene, The Standard has been opened by Danish producer and pianist Niels Lan Doky and Claus Meyer, co-owner of the Michelin-starred noma restaurant.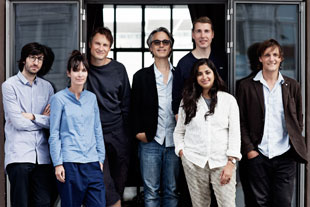 The venue includes two bars and three world-class restaurants, and features vocalists as well as instrumentalists. Also on its programme is Danish name: DPA Microphones.
'We have between ten and 15 DPA microphones permanently in the venue and we will be hiring in more when larger ensembles are playing,' says Doky the venue's musical director. 'When our stage was completed, we conducted a series of rehearsals and tests on site with the DPA team to determine exactly which microphones we needed. The list, which is exclusively DPA, includes various d:vote 4099 Instrument Microphones and a selection of d:dicate 4011 and 4006 Recording Microphones.'
Doky and his team have also invested in a DPA d:facto Vocal Microphone that will be made available to every singer performing at the club: 'We are very excited about this microphone, which is the perfect microphone for us,' Doky says. 'Our experienced house sound engineer, Jonas Nakel, tried it and was very impressed because it has the trademark qualities of DPA, coupled with the specific needs of a vocal mic.'
The choice of DPA Microphones reflects Doky's philosophy regarding quality of performance and the sound of the room: 'We are aiming to capture the timeless values that define jazz and that the greatest artists in jazz have in common,' he explains. 'What counts is the quality of the music performed, so we will be working with incoming artists to help them prepare and enhance their shows in order to go beyond themselves and reach new levels of artistry. We also have a great sounding room with top level equipment and this is a very important part of the equation because although we are creating a classic jazz atmosphere, we are also ensuring that the room's equipment and acoustics reflect professional recording studio standards so that we can give our audiences an exceptional sonic experience.'
Doky already owns a selection of DPA 4011 and 4021 microphones that he uses for concerts and recording: 'I have never made a recording without a large selection of DPAs,' he says. 'They are the most transparent and precise microphones I know because what you put in is exactly what you get out at the other end of the chain. In the old days people didn't always appreciate this as they were used to hearing the transformed and sometimes aesthetically altered sound that many other microphones produced. However, in our increasingly technically sophisticated world, especially in the world of A/V production, it is very important to get as close as possible to a natural sound. I believe that was DPA's vision from the start and I am glad that they have stubbornly stuck to it.'
Among it's early events, the new club will host an album launch party for Doky's latest album, Scandinavian Standards, will be released on Parlophone.
'Like all my albums, Scandinavian Standards was recorded using DPA microphones,' he says. 'I play piano and, given how hard it is to record and amplify that instrument, I don't think the quality of my recordings would have been possible without the clarity and precision of my loyal travel companions, my DPA microphones.
'We take deep pride in Copenhagen's jazz legacy and we want to reflect it in The Standard's creative choices and decisions whenever possible,' Doky adds. 'We will be looking to bring in dynamic, vibrant and engaged jazz artists who know how to be daring and courageous without compromising integrity and quality.'
More: www.dpamicrophones.com