Andy Murray's Wimbledon success was witnessed by a record UK television audience of 17.3m viewers, jut topping the 2012 final's figure of 17m. Similarly, in the US ESPN recorded an average of 1,894,000 homes and 2,456,000 viewers for the match – again, the second-largest audience in the broadcaster's tennis history.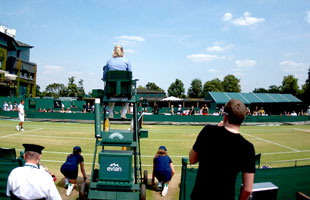 For the 2014 tournament, however, the sounds of racket on ball, and the agonies and ecstasies of the live audience will be carried on a new cable infrastructure.
Wimbledon-based sound engineering specialists RG Jones is responsible for the miles of cabling carrying audio and video signals from the famous old courts to the stands and beyond and carrying the sounds of the courts to the BBC for worldwide broadcast. VDC Trading – the manufacturer of Van Damme cabling – recently supplied more than 2km of Brown Series Star Quad Multicore Cable for the reconfiguration and relocation of some of the audio systems. In total, VDC has supplied kilometers of Black, Purple and Brown series multicore, and several drums of FST for the permanent installation at the site. These cables used during The Championships for both delivery PA and umpire announcements and interfacing signals with the BBC for TV broadcast.
'It's a major responsibility knowing that our cables have to perform in all conditions during the Championships – and beyond,' says VDC Commercial Director, Chris D'Aguiarnd. 'And it's good to feel confident that they are always more than up to the task.'
In addition to the installation cables, VDC has supplied custom umbilical cables for the umpire chairs. These comprise 16-pair Green Series cable terminated with VDC's own design of connector at each end. Alongside the multicore, there are four tour-grade Van Damme TourCat Cat5 cables and a 3x1.5mm power cable. The entire, flexible, solution is enclosed in a black pliosil sleeve and used to relay data to the Umpire Score Pad and telephone – and the umpire microphone signal, which is in turn distributed to the PA system locally and the BBC for worldwide broadcast.
'We have used VDC as a supplier at Wimbledon for the past 12 years,' RG Jones' Tim Speight says. 'They are able to supply all of the stock we require and the cables are accepted as industry standard – as such we have never had issues when dealing with prickly broadcast engineers. What can I say? They do cables that work…'
More: www.vdctrading.com