In continuous use since opening in 1871, London's Royal Albert Hall regularly hosts events ranging from live music and performing arts of all types to exhibitions, conferences, public meetings and film premieres. A recent renewal of its sound system has seen the installation of an EM Acoustics Halo Compact loudspeaker system.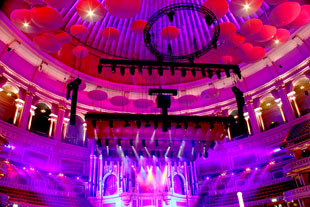 A long-time audio supplier to the Royal Albert Hall, Sound by Design won the competitive tender for the installation. 'Halo's outstanding accuracy and coherency and an ability to maintain control of the dispersion over a distances of more than 50m' as the thinking behind the choice,' says founder and MD Andy Callin.

RAH events have changed in recent years, demanding a versatile audio set-up. Having trialled the system on a number of events, including Singin' in the Rain and ENB's Swan Lake, the company's engineers were agreed that Halo Compact was the right system – both aesthetically and acoustically.
'It isn't very often that a new product really has a "wow factor", but on hearing Halo Compact for the first time, I was absolutely convinced that this loudspeaker was quite unique,' Callin explains. 'Another key factor is its compact size. Many of the events covered by Sound By Design in the Royal Albert Hall have a classical or music theatre base and a very wide range of genres. It was very important that whatever system was chosen fitted in aesthetically in the Hall.'
'Finally, the design expertise of EM Acoustics, along with former SBD employee, Dave Shepherd, meant that we had absolute confidence that the predicted system performance prior to the installation would be accurate, and it has already proved to be the case.'
'When we launched Halo Compact in the Royal Albert Hall exactly a year ago with a live performance of Fantasia from the London Philharmonic orchestra, the Sound By Design team had nothing but praise for the system,' says EM Acoustics Operations Director, Mike Wheeler. 'This installation really puts us on the map in every sense of the word, and consolidates our position as a major player in the highly prestigious and competitive environment of theatre sound.'
'The newly installed Halo system is a big step forward for us,' says RAH Senior Technical Manager, Ollie Jeffery. 'It will allow us to offer a much more flexible package to the wide variety of acts we have in the Auditorium. The final result is absolutely brilliantly and the coverage throughout the building is the best it's ever been. We are really excited at developing this to all users of the Hall over the next coming months.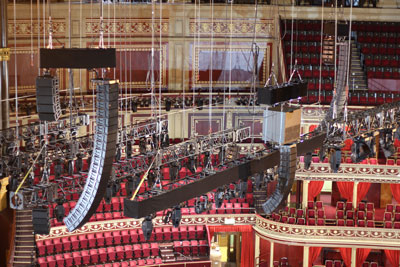 The total system comprises 88 Halo-C line array elements, one custom four 18-inch flown cardioid subwoofer, two EMS-118 subwoofers plus one AD-9 amplifier, 14 AQ10 amplifiers and four DSC48 loudspeaker management units.
The system is configured with main LR hangs of 20 Halo-C each, a centre hang of custom sub plus 12 Halo-C boxes underneath, two fill hangs of three Halo-C each for the choir stalls and four fill hangs (two of four Halo-C, two of five Halo-C) to cover the circle and boxes
A stand-alone system comprising six Halo-C boxes and two EMS-118 subs has also been supplied for the Elgar Room. Refurbished in 2009, this 350-capacity room is the venue's secondary performance space and hosts a wide range of events, including Late Night Jazz andClassical Coffee Mornings, as well as comedy and cabaret events.

Cabling infrastructure
For cabling the new installation, Sound By Design looked to Van Damme cabling supplied by VDC Trading.
'All the signal infrastructure uses Van Damme cables by VDC and is well matched to the system we deployed,' confirms Sound By Design Operations Manager, Phill 'Chappie' Chapman. 'We have worked with Van Damme cable for many years. In fact, the previous system in the RAH was with VDC cable too. Much of that we have retained and reused with the cables running from an input panel at the back of the stage to a new amplifier room behind the organ.
'In the RAH there are no direct cable routes to anywhere and, over the years, we have found most of the ways through. This time though, we still found a couple of new spaces we didn't know existed. We used both analogue and digital multicores plus Cat5 cables for data with tie lines to the rear of arena and to positions under the stage to allow for the addition of powered sub-woofers and conventional monitors'.

The cables used for the installation include: Ecoflex Install Grade LSZH speaker 4x 2.5mm multicore; Ecoflex Install Grade LSZH speaker 2x 2.5mm twin axial; Pro Grade XKE Unbalanced Pro-patch; Super Purple Series Extended AES/Analogue LSZH 4 pair; and Super Green Series Digi Grade Enhanced AES/EBU 12 pair multicore.
'VDC is a company that delivers when it says it will, due to retaining good stock levels,' he adds. 'A lot of our work can be very last minute, and VDC is good at helping us with that.'
'It's a great pleasure to be involved with the operations of the UK's best loved venue,' says VDC Commercial Director, Chris D'Aguiar. 'It represents the peak of live performance and is a good example of utilising the renowned flexibility of Van Damme cabling.
More: www.emacoustics.co.uk
More: www.vdctrading.com