US sound specialist Special Event Services has provided an Outline GTO loudspeaker system for the Greenbrier Classic Concert Series. Produced by Gary Bowman of Nashville Live! in conjunction with the Greenbrier and the PGA, the event stages two days of entertainment at the State Fair Grounds in Fairlea, West Virginia.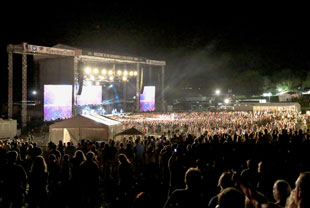 With Kenny Chesney and Aerosmith as year's headliners, the system was required to cover the nearly 1,000-ft-long field, and crowds in excess of 25,000. SES Systems Engineer and Director of Audio, Jason Farah, chose the large-format Outline system for the job: 'We chose GTO not only for its amazing power, but also the fidelity of the system at the distances it had to reach,' he says.
Chris Rabold, FOH Engineer for Kenny Chesney, was involved in the discussions from an early stage: 'I know Jim Brammer and SES well, so when I saw they were the contractor for the event I contacted Jason Farah to start a dialogue,' he says. 'I only had a passing knowledge of Outline and knew even less about the GTO specifically; he gave me the lowdown and I went in with an open mind yet the obvious concerns one has when encountering a new rig.
'The stop in Greenbrier was one of one the three I would do all year with Kenny Chesney where we didn't have our normal touring rig. To say I was surprised with what I heard would be an understatement and to say I was pleased wouldn't do the PA justice. I had headroom for days, used very little EQ, had no problem aligning zones and my mixed popped up just the way I wanted it to instantly. It's a great sounding system and a real secret weapon in the US.'
Comprising 56 GTO, four GTO-DF, six GTO-Low, 36 Butterfly Hi-Packs, six LIPF 082 and 32 Lab 21 HS subs, this made for one of the largest GTO-based systems to be used to date.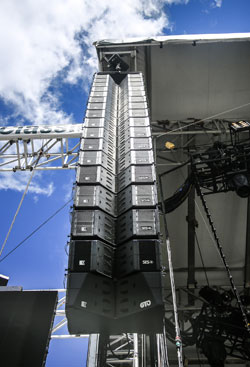 'When I ran the calculations in Outline's OpenArray 3D prediction software, and after determining that the stage roof height would allow us to do so without impeding the lighting rigs of the artists, I chose to add a centre hang of six GTO-Low cabinets to help extend the low-end response of the system and eliminate some of the sub-bass cancellation zones that you would normally get with a system of this size, and the results were outstanding,' Farah adds.
'We really wanted to put the GTO system through a proper round of testing, and the Greenbrier show helped us effectively do that. With two very different styles of artists and engineers, we were able to listen to the GTO in a different way than we had before, and it performed spectacularly. Even standing at the very rear of the venue you still felt as much a part of the show as the front row, something that translated into a very positive fan experience as well as very pleased artist engineers,' says SES Director of Touring Operations, Michael Brammer.
'The Outline system exceeded our expectations for this event, something that seems to be translating very well across the industry and allowing us more opportunities to provide systems of this calibre,' adds SES President, Jim Brammer.
In addition to the Greenbrier, SES has been able to supply GTO based systems for regular touring clients Darius Rucker, Justin Moore and Joel Osteen Ministries.
More: www.specialeventservices.com
More: www.outline.it