Ireland's latest arts venue, Belfast MAC, offers a 350-seat main auditorium on its ground floor and a second 120-seat studio theatre on the first floor. For its audio systems, the venue turned to Rea Sound, Martin Audio and Allen & Heath.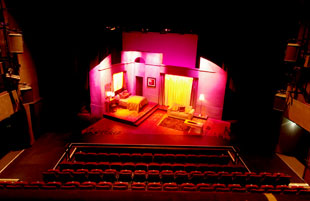 Rea Sound devised the entire technical fit-out, including lighting, dimmers and control, intercom, video relay and IR for both the main auditorium (Downstairs at the Mac) and the smaller studio (Upstairs). Downstairs is an adaptable, modern theatre space with tiered, retractable, seating, while Upstairs flexibility for both seated and standing audiences.
Working from a design specification by consultant Carr & Angier, who had selected Martin Audio's W3 arrayable three-way compact trapezoid system as best fit for purpose, Rea Sound used leading sound and lighting brands throughout.
In addition to the two performance areas, full installation covers two rehearsal rooms and the foyer, allowing video and audio to be linked between all areas. The two performance spaces have raked seating, both retractable to allow for flat floor. The main space also has two balcony levels and here the design allows the speaker cabinets to be positioned on vertical grids to provide sound coverage and clarity.
The original design called for four W3s on each side – however, the client later changed this (to great effect) using three W3s on each side, along with a Martin Audio AQ10. Purpose designed for theatre, each W3 enclosure measures 28-inch high: 'The W3 is a fantastic sound system and perfect for the requirement,' says Rea Sound's Roger McMullan.
The system is powered by the Martin Audio MA range of amplifiers located in a dedicated amp rack. These provide separate channel feeds to each of the house PA speakers as well as fills and effects speakers, which include three Martin Audio AQ10s plus four 'floating' Martin Audio Blackline F10+ and two F12+. Custom patch panels allow for the effects speakers to be positioned according to their requirement for the production at hand since the space is designed for multi-functional use and signals need to be routed to speaker locations throughout the venue.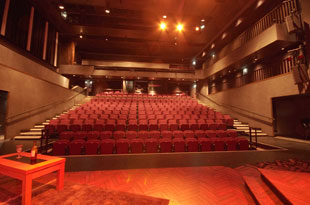 At the heart of the system is one of two Allen & Heath IDR units, allowing full control on all inputs and outputs of the PA speaker channels. A touchscreen controller is located in the main auditorium control room – allowing operators to select either pre-determined presets or their own. Supplied for the audio engineer is an Allen & Heath I-Live T122 digital console and IDR48 stagebox again allow for ease of use and preset recalls.
The Upstairs PA system also uses the Martin Audio W3 cabinets flown from the grid horizontally. An Allen & Heath I-Live R72 digital console and IDR16 stagebox again offer ease of use and preset recalls.
Elsewhere, Rea Sound has provided a range of other services, including a full backstage communications system, allowing for paging from three fixed positions and any of the stage managers desk positions, as well as the show relay mic signals also under IDR control from both venues to all dressing rooms, the IR systems in both venues and voice description systems in both venues. While each venue also has its own intercom system it is possible to link the two systems should the need arise.
The same patch panels in these areas also allow for audio tie lines, sending audio relayed from either of the show relay mics in each venue. The systems are flexible enough to relay audio and video from any of the performance areas, foyer areas, dance and rehearsal rooms and combine them with a live performance in the main auditorium.