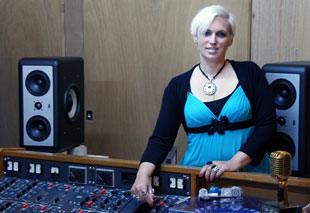 London-based mastering engineer and Black Saloon Studios founder Mandy Parnell recently acquired a Prism Sound Lyra 2 audio interface, and quickly put it into service on remixes for Bjork, The xx, and Johann Johannsson's soundtrack for the film, Prisoners. 'I love being the facilitator for artists and helping them realise their dreams in audio,' she says. 'It is an immense feeling when I hear the tracks I have worked on and see how much pleasure it gives the listener.'
Parnell says she evaluates new equipment constantly and is particular when introducing new gear into Black Saloon. However, in the case of Lyra 2, she was happy to include it because it contained features she liked: 'First and foremost, it has Prism Sound's clear and neutral sound,' she says. 'I also like the USB connection and its compact size.
'Some AD/DA convertors, in my opinion, add a distortion into the sound that I do not find acceptable,' she continues. 'Artists, producers and engineers often describe the sound I bring to their mixes as dynamic and wide. Prism Sound products play an integral part in helping me to achieve what my customers want because they deliver a very neutral sound that is wide and has great separation. The company's kit is also reliable and I can have complete confidence in what I am hearing via my playback and record systems. That is invaluable for me. I have never doubted the sound of Prism Sound.'
Black Saloon's client roster also includes Matthew Herbert, Feist, Max Richter Frightened Rabbit, Lianne La Havas, Jónsi, Mount Kimbi and Brian Eno.
More: www.prismsound.com