Russian broadcaster VGTRK has commissioned a new OB van featuring Studer Vista 1 and Soundcraft Si Compact digital mixing consoles. The 10+2 HD camera truck has been designed for all types of OB filming and recording of social and political events, concerts and performance, as well as shooting sporting events throughout the Middle Volga region.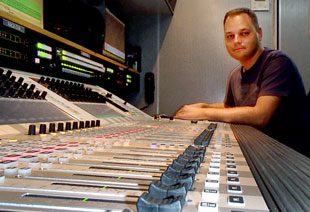 Operating from the company's base in Samara, the van called on audio and intercom design from RTV-RTC's Alexander Yankovsky, who chose a32-fader Vista 1 with optical Madi card, and Studer Compact Stagebox with 32 mic/line inputs and 16 line outputs. The Soundcraft Si Compact 16 with optical Madi card has also been provided as a backup mixer and will allow a basic mix of 24 channels.
Other key people involved in the build were chief project (and video) engineer Evgeny Zaytsev and project engineer (power distribution), Georgy Kozhevnikov.
'We recommended Vista1 to our customer based on the excellent quality of the sound and the inbuilt sound processing,' Yankovsky says. 'It offers one of the best price/function ratios – and this was a very important aspect, as it allowed us to put into practice the customer's requirement, namely, flexible and cost-effective sound for video production possibilities.
'The other attraction was the Vistonics interface – the work of a sound director in live broadcast can be compared to the work of an aircraft pilot, needing to control numerous parameters in real time, and provide a swift override of the process if something goes wrong. Vistonics can handle this easily.'
The main Vista 1 has been integrated into the Madi router through two optical Madi connections, which provide all the necessary sources. The mixing console, with the Vistonics user interface and 40 on-screen rotary knobs, has built-in signal processing, 32-fader direct access and signal level meters on each channel.
'By using a main interchange of the sound signals via DOTEC Madi routing, we were able to achieve a very flexible audio structure as well as the integration of the backup mixer into the system,' Yankovsky adds.
The truck has been designed on a two-axle trailer chassis with a total body length of 12.3m, with dedicated rooms for audio, video, engineering and computer room/rack room. There are also two external commentator positions with two-way signal delivery via Telecast T-POV receiving and transmission sets.
It will produce two independent television programmes, including live broadcast and is designed to work in HDTV format, with the ability to switch to HD/SD.
More:
www.studer.ch