Canford has been named a UK distributor for US company Q5X – a designer and manufacturer of specialist broadcast quality, sports, waterproof and live performance microphones, transmitters, receivers and remote control systems. Among the company's high-end broadcast products, is what is claimed to be the World's smallest broadcast quality transmitter.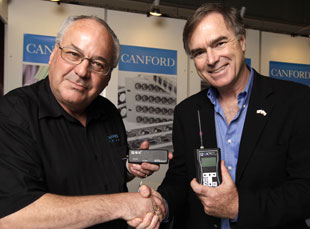 The QT-256 forms the basis of the transmitter range. The standard unit is approximately the size of two AA batteries and is available as a waterproof version, the QT-256 AquaMic (used for The Americas Cup and Kite Boarding competitions), and a rubberised version (for active competition).
The QT-1000 Playermic is resistant to both water and perspiration, and was designed originally for coverage of NBA matches. Q5X also produces the QT256 Dual, which provides two individual transmitters that can each be tuned to a different channel for redundant operation. All the QT models provide 256 channels and can operate between 600MHz and 698MHz.
RCAS (Remote Control Audio System) enables remote control of frequency, gain and monitoring for up to several hundreds of transmitters 'on the fly', allowing an entire venue to be controlled from a single point using proprietary software. The system can also be configured to operate in an environment where there are a limited number of frequencies available. In NYC's Radio City Music Hall, 80 frequencies and 80 receivers are shared by 300 transmitters, so that cast and costume changes even can be pre wired and switched live as required.
'I have been extremely impressed by the quality of the Q5X products and their innovative design,' says Canford founding director, Iain Elliott. 'They complement perfectly the Voice Technologies range of high-end miniature broadcast microphones we already supply.'
More: www.q5x.com
More: www.canford.co.uk