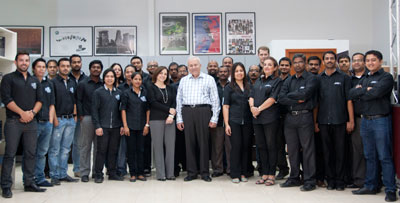 Clear-Com has granted certification to NMK Electronics for the completion of an extensive series of intercom product and service training.
The Dubai-based pro audio, video and communication provider joined Clear-Com's global channel partner network in 2009 and has received sales and technical training on its portfolio of intercom products. Staff have also undergone factory service training in Germany.
'We do our best to offer not only products to our customers, but solutions,' says NMK Head of Marketing, Moswain Antao. 'This includes customer service before, during, and after the transaction. Whether it is providing a unit to demo, an emergency loaner unit, or providing technical support – keeping the customer happy is our end goal.'
NMK pre-sales support includes supplying demo systems and system diagrams, and helping clients build bills of quantities (BOQ). Additionally, NMK hosts regular seminars as and offer one-on-one orientation sessions for clients. The small-group seminars include hands-on technical training and application-based learning. Customers are also invited to discuss their own projects.
'We understand that our end-users prefer to deal with local experts who speak their language, understand their culture and business environment, and can support their deadlines,' says Karlie Miles, Clear-Com Director of EMEA & South Asia-Pacific Sales. 'This is why we have built up a network of channel partners for serving a variety of markets. NMK epitomises the type of partner we select to promote, distribute and service our products.
'NMK's certification recognises the company's service and technical knowledge. Customers in the Middle East can be assured they have a well-informed, experienced team in their locale to provide support when they need it.'