With 39 different countries currently broadcasting their own versions of The Voice television franchise, The Voice of China is now in its second season.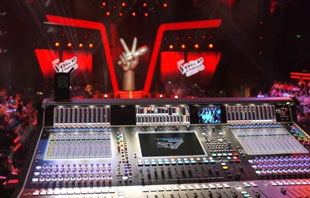 Using an identical format to other nations' incarnations, the show is broadcast on Zhejiang Television under the hand of Jin Shaogang, one of China's leading live audio engineers and a key man in the opening and closing ceremonies for the 2008 Beijing Olympics.
A prime aim of the show's sound production is to make the contestants sound as professional as possible. With this in mind, Jin Shaogang specified an audio system that includes a DiGiCo SD7 at FOH and an SD10 on monitors. The desks are complemented by two SD-Racks and a Waves SoundGrid system, the equipment was supplied by DiGiCo's Chinese distributor, Rightway Audio Consultants.
With The Voice of China being one of the country's most popular entertainment shows, the SD7 is a popular choice for many large-format Chinese live and broadcast applications, and has also featured on such prestigious projects as the 60th Anniversary National Day parade. On monitors, the SD10 helps both contestants and judges to deliver their best performance on every show.
To ensure that the programme's audio team got the most from the consoles, DiGiCo and Rightway Audio Consultants organised a four-day training session before the series began. The hands-on programme included basic operation, setting up the optical network and sharing the SD-Racks through and advanced functions, as well as working with Waves plug-ins and recording live audio via the consoles.
'As the signal paths were processed at 96kHz this time, very high resolution audio processing was achieved,' says Jin Shaogang. 'The live sounds is exquisite, with solid bass, high clarity and accurate phrasing.'
'The first series of
The Voice of China
captured the imagination of viewers, so the second series was keenly anticipated,' adds Rightway's Danny Lau. 'Series Two is proving even more popular than the first. We are very pleased to supply DiGiCo consoles for such a popular production and are grateful to DiGiCo UK for their help in delivering a comprehensive training programme, which has helped our engineers provide first-class audio.'
More:
www.rightwayaudio.com