Drummer, recording, mastering and live sound engineer, Blokhed Studios owner Tom Stiegler is a self-described 'sonic perfectionist' who does live sound work for local Long Island and New York Metro area bands. He recalls being 'really excited' when digital live sound consoles started to become more affordable…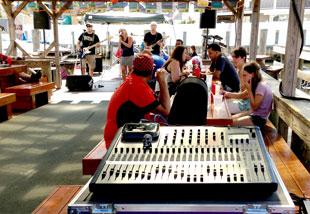 However, when he first heard one of those earlier models: 'I hated it,' was his reaction. He shied away from trying a digital console again – until recently, as prices came down and more manufacturers entered the market. He spent time 'obsessively researching my options' and making comparisons. 'Soundcraft was on my list,' he says. 'I always had faith in the mic preamps, and the new Si Expression Series looked like it had the features I needed. And the Si Expression 2 was price-competitive with comparable brands.'
After comparing various consoles he chose the Si Expression 2: 'I'm a mixing and mastering engineer,' he says. 'I hear everything – what seems like a little bit of a sonic difference to others is a big amount to me.
'I feel that local bands should have a live sound mix that's as good as any national act,' he adds – which is why he often brings in extra PA gear and appreciates the Si Expression 2's ability to adapt to any live sound situation.
Stiegler will often have to set up the Si Expression 2 in less than an hour and may have only minutes to build a mix. He finds Soundcraft's cue/snapshot system lets him instantly recall any settings from any club he's ever worked in – 'a beautiful thing'. Equally useful is Soundcraft's TOTEM (The One-Touch Easy Mix) system that reconfigures the console and allows users to press a single key to mix to an aux, FX or matrix bus. The Si Expression 2's iPad compatibility, meanwhile,gives him the ability to make adjustments to the console from anywhere in a room.
In making the move from analogue to digital, Stiegler found there was a learning curve, but not too big a one: 'The Si Expression 2 is not that hard to learn. The biggest mistake you can make is walking into it thinking it's going to be too complicated. If you're thinking about buying a digital console in this price range, the Si Expression 2 is the one to get – it's not even a question,' he says.
More:
www.soundcraft.com