A mix of pop and classical music, the 2013 Live by the Lake event saw organiser Rouge Events calling on Capital Sound for a Martin Audio MLA/DiGiCo FOH system.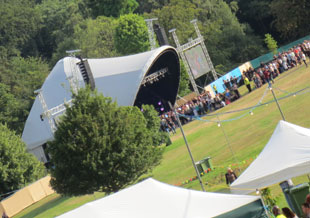 Stages by English Heritage at North London's Kenwood House, the event took place over several weekends during August. This was Capital's first year at Kenwood and, as with many of its projects this year, understanding the sensitivity of the site and noise pollution issues was key.
Having hosted concerts for more than 50 years, Kenwood House has struggled with sound containment and has been dogged with cancellations following noise complaints from residents. But with the system used successfully at a number of recent events, including British Summer Time in Hyde Park, Capital Project Manager, Robin Conway, knew that specifying MLA on all PA positions would give maximum controllability of both on- and off-site levels.
After consulting with Capital Technical Manager, Ian Colville, it was decided that a single central delay, rather than a wide stereo pair, was the best configuration for Kenwood House because the narrowing site meant that the MLA dispersion could be controlled better from the centre position, with a 'hard avoid' setting determined at the appropriate location.
Capital used 27 MLA cabinets plus MLD Downfills, with 14 MLX subs designed in a broadside sub array. Additional Martin Audio W8LM Mini Arrays were used as front fill.
While control for the pop shows was very specific, Capital was able to dictate what was used for the orchestral elements, and specified a DiGiCo SD7 console, with a mixture of consoles requested for Suede, British Sea Power and Teleman, all using an Avid Profile at FOH and a DiGiCo D5 for monitors, while Keane and Laura Mvula supplied their own consoles for performances.
Richard Sharratt mixed the orchestral shows for Capital on the SD7, with the addition of a TC6000 reverb, whilst monitoring requirements were being covered by a DiGiCo SD9 and SD8.
'The event was a great success,' Robin Conway reports. 'Once again, the MLA system proved itself to be the ideal solution for situations such as these and DiGiCo and Avid consoles were a winning combination.'
'I've had many, many comments on how great each night sounded,' adds Rouge Production Manager, Sam Mount.
Martin Audio's MLA is the first system that is scientifically proven to be able to reduce offsite noise to within the generally accepted thresholds. This fact has been picked up by local authorities around the country, including Westminster Council, who licensed this year's Hyde Park concerts.
More: www.capital-sound.co.uk
More: www.martin-audio.com
More: www.digico.org