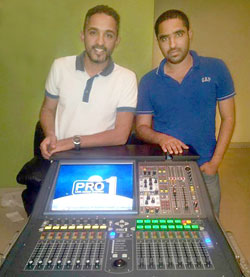 Nicolas Kyvernitis Electronics Enterprises (NMK) has supplied a Midas Pro1 digital live audio system and an RPM TB48 AES50 I/O unit to Bahrain-based Top Tune Audio Services.
'The Pro 1 is a perfect fit for the budgets of startup companies,' says NMK Middle East Business Manager, Chicco Hiranandani. 'With the addition of the TB48, you are now able to make multitrack recordings of up to 48 channels.'
Providing rental and studio services throughout Bahrain, Top Tune Audio Services' Pro1 is the first stand-alone digital console in Midas' Pro-series, and features a lightweight aluminum frame for ease of portability. The desk draws on Midas' classic analogue consoles for its sound and adds the effects and dynamics processing found in the larger the Pro6 and XL8 desks, including XL8 compressor styles.
The RPM-TB48 I//O is Midas' first standalone 48-channel AES50 I/O system, providing Digital I/O to any Thunderbolt-equipped computer.

See also:
Midas Pro1
More: www.nmkelectronics.com
More: www.midasconsoles.com