Aiming for a 'big-studio sound at working musicians' rates', Wayne Silver and Adam Zirkin have opened The Ice Plant in the Williamsburg neighborhood of NY's Brooklyn. At its centre is a16-channel API 1608 mixing console.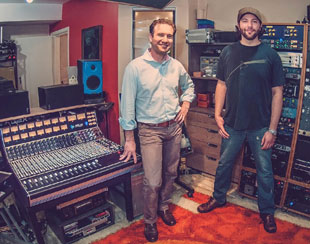 'My passion for great gear started a long time ago,' Zirkin says. 'I purchased some of The Ice Plant's equipment well over ten years ago, and for as long as I've been collecting gear, Wayne and I have been talking about what a modern studio should be and what it should offer. Ultimately, we want the room itself to serve as a creative tool. We want not only to get great recordings, but we want to inspire better performances and better songs.'
Both owners are accomplished multi-instrumentalists, composers and arrangers, as well as producers and engineers. Through The Ice Plant, they offer services ranging from recording to full production, arrangement,and performance services.
In contrast to the live room/control room paradigm, The Ice Plant gets its creative vibe by placing almost everyone – including the producer/engineer – in a single room.
'It's a warm, comfortable atmosphere,' Silver explains. 'There are different stations, such as guitar, keyboard and bass, as well as an isolation room for the drums. Everything is out in the open and ready to play. A musician could walk in here empty-handed and be ready to go. We've got everything.'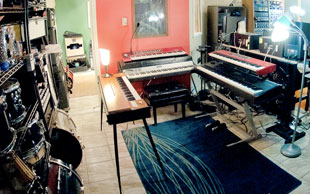 The console is loaded with 12 API 550A EQs, four API 560 EQs, a vintage API 525b compressor and other processors that fit the API 500-series protocol.
'The API 1608 is a small-format board with large studio quality, and that was very attractive to us,' Silver says. 'It has an earthy vibe – that true warm analogue sound. I harvest all of the music that's happening in the room through the 1608, and everything sounds better through it. With the sonic part of the process taken care of, I can focus on helping the musicians stay in their zone.'
The Ice Plant's API 1608 is flanked by one of the most eclectic collections of gear in the industry. The outboard racks and microphone cabinets include many studio staples alongside products from boutique manufacturers. Zirkin is an avid guitar and keyboard collector, and he and Silver have made their entire collection of nearly 50 instruments available to clients. With seemingly everything from 60-year-old Guilds and Gibson, to modern-day Suhrs and McInturffs, Zirkin and Silver hope The Ice Plant's instruments will inspire ideas and performances that were elusive in their client's rehearsal spaces and writing rooms.
While well equipped, the room doesn't feel crowded: 'The idea is to create an environment that is conducive to creativity and communication,' Zirkin says. 'Whatever we may lose in terms of isolation, we more than make up for in vibe and collaboration.'
More: http://theiceplant.com
More: www.apiaudio.com