Allen & Heath's Xone DJ mixers found themselves at the centre of the action throughout the Ibiza season, used at various venues across the island by top DJs including Pete Tong, John Digweed, Chris Liebing, Juanjo Martin and Richie Hawtin.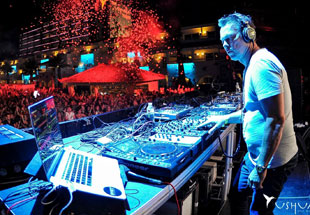 The flagship Xone:DB4 digital FX club mixer, along with the pro touring XD2-53 headphones was used by Pete Tong at his new weekly Le Grand Bazaar party at the Ushuaïa Ibiza Beach Hotel, and also for his Essential Mix Live at Privilege, broadcast on the UK Radio 1 station. Leading Spanish DJ and Producer, Juanjo Martin, also resumed his SuperMartxé residency at Privilege, where he used XD2-53 headphones and a Xone:DB4.
The M-NUS crew took up residency at Space for Enter – using Xone:92 mixers and Xone:K2 controllers in the booth – which included appearances from Richie Hawtin, Magda, Nina Kraviz and Gaiser. Similarly, Cocoon's residency at Amnesia featured Chris Liebing with his Xone:92 and Xone:K2 set-up, alongside Adam Beyer, Sven Väth and Ricardo Villalobos using Xone:92s. Meanwhile, John Digweed used a Xone:DB4 for his Insane residency at Pacha.
Ibiza Global Radio broadcasts 24 hours a day from the island using an Xone:PB patchbay and XB-10 mini broadcast mixer installed in the studio .
More: www.allen-heath.com