After more than 15 years' service, Hilversum-based broadcast facilities provider AKN has decommissioned its Studer 928 analogue console and upgraded its technical facilities with a move to a Studer Vista 1 mixing console. The desk was supplied by Studer's Dutch distributor, Heynen.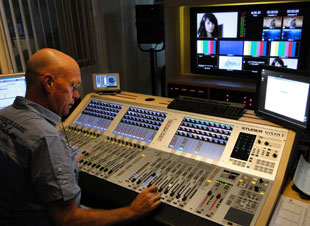 'The choice of a digital platform was obvious since we need to be keep up with ongoing changes in audio workflow,' say Patrick van der Tol, AKN Radio & TV Studios General Manager, and AKN Floor Manager, Damir Cicek.
Set up in the mid-1990s to support broadcasters, AKN rents out its facility in the Dutch media capital to a number of organisations and is responsible for maintaining these studios at the highest technical level. The desk will be used for both live and recorded broadcast productions, and operate between both of its large, well equipped studios.
The continued adoption of Studer resulted from the studios' collaboration with technical support company United Facilities, who provide audio and video production teams: 'In their own OBV's they have installed Vista 5 and Vista 8 consoles and so employees are familiar with the operational characteristics and capabilities they provide,' Cicek says. 'While a Vista platform was a clear choice, the Vista 5 and 8 were considered to be too large for the productions we are producing – however, the Vista 1 is a smaller, multifunctional desk – excellent for the job and financially attractive.'
The Vista platform was also evaluated against products from other manufacturers before the decision was made — and the company DBSE, who had assisted in the planning and development stages, also oversaw the console installation. 'We have a lot of different productions, all with completely different audio setups and desires,' says van der Tol. 'These productions are planned tightly, one after another. The option to save audio settings into the console we knew would give us a time advantage, as we don't need to build up our desk structure 'from scratch' every time.'
The Vista 1 is configured with 80 mono inputs; 15 stereo inputs; six mono groups; four stereo groups; two stereo masters; four shared programs; 12 mono aux and four stereo aux. It was supplied with a Studer D21m Digital Extension box (32 inputs / 24 outputs) and a Ghielmetti patchbay.
'The purchase of the Vista 1 is a major step up for us and our studio engineers,' concludes Patrick van der Tol. 'Digital audio mixing is providing them with new methods to enable them to take our productions to the next level.'
More:
www.studer.ch