A/V supplier Tek Signals has installed an extensive Shure radio microphone system in the new Dubai Media Incorporated (DMI) News Center facility in Dubai Media City.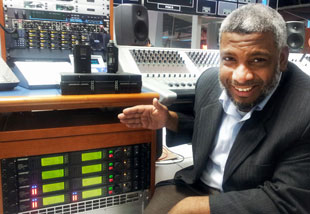 DMI operates a number of television and radio channels, including Dubai One, Dubai TV, Sama Dubai, Dubai Sports Channel, Dubai Racing Channel and Noor Dubai. The new mic system comprises ten channels of Shure PSM series transmitters with 19 receivers, 24 channels of URF-R series with 32 transmitters, and eight plug-on transmitters. The system is completed by 35 MX150B lavalier microphones.
The UHF-R series is the most powerful and flexible wireless system to date from Shure, and it tailored for use in large-scale touring and installations. It is able to control up to 108 systems for elaborate productions.
The equipment was supplied to Tek Signals by local agent Nicolas Kyvernitis Electronics Enterprises (NMK), Shure distributor for the UAE, Bahrain, Qatar and Oman.
'Dubai TV is a strong local media provider in the region and depend on Shure wireless products for their durability and performance,' says Shajahan KK, NMK Shure Product Manager. He continues, 'Remote management of all Shure devices is now more efficient with the help of the Workbench 6 software'
More: www.shure.com
More: www.nmkelectronics.com