South Carolina's Cathedral of St John the Baptist has worked its way through various upgrades and renovations since its cornerstone was placed in 1850. Until now, however, none had solved the intelligibility issues presented by the highly reverberant sanctuary.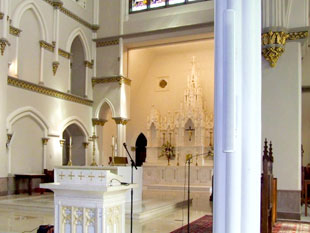 A traditional Catholic cathedral, the sanctuary is a long rectangular room with wooden pews that seat up to 1,200 parishioners. The room features beautiful stained glass, plaster walls, columns separating the main and side seating areas, and a rear balcony. Its services are also traditional, using a choir and organ.
The Charleston cathedral called Joe Bennett, owner of Spectrum Sound, located in nearby Summerville, to help devise a sound reinforcement system that would give each mass the clarity it deserved: 'After a thorough review of the components in place, it became obvious that the existing system was bits and pieces of older systems patched together,' he explains. 'There were speakers firing everywhere. Frankly it was amazing that anyone could hear the services at all.'
Bennett suggested installing new loudspeakers that would direct the sound away from the room's hard surfaces and toward the parishioners. After demonstrating Tannoy's VLS passive column loudspeakers, the facilities manager and the Monsignor agreed: 'They were very impressed with the natural and realistic sound quality of the loudspeakers,' Bennett reports. 'They needed a system that would offer vocal intelligibility without sounding overly amplified – the VLS were perfect.'
The first Tannoy loudspeakers to incorporate Fast (Focused Asymmetrical Shaping Technology), VLS Series loudspeakers produce an asymmetrical vertical dispersion that gently shapes the acoustic coverage toward the lower quadrant of the vertical axis. The result is a passive loudspeaker that can be used to keep coverage on the audience and away from walls and ceilings.
A pair of VLS 30 column array loudspeakers was mounted on pillars in front of and to the left and right of the alter. Each box is loaded with 14 3.5-inch LF transducers mounted in vertical arrays with 16 1-inch HF transducers mounted co-axially over a section of the LF drivers. Each box produces a maximum average SPL of 120dB – more than sufficient for the space. 'The installation was pretty straightforward,' Bennett says. 'We are using the VLS loudspeakers with a Biamp AudioFlex system with auto-mixer – that's all it needs. We tweaked the system for a few days during Noon mass to make sure the EQ and auto-mix settings were all dialled in and it's been running like a charm ever since. The parishioners and church leaders are thrilled.'
More:
www.tannoy.com
More:
http://biamp.com