Installing its first Merging Technologies system in 2001, Shanghai Motion Magic has seen several successive rounds of expansion and upgrades and currently operates three Pyramix DAW systems 'beyond full-capacity'. The latest upgrade of the prestigious postproduction facility features two Iris postproduction systems.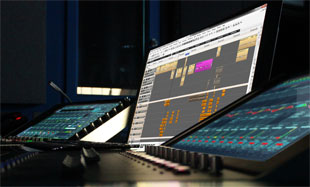 Along the way, the studio created a promotion bid movie directed by Zhang Yi Mou in 2002 for the Shanghai World Expo 2010, during which it concluded that Merging's workstation sound quality was 'significantly better' than other systems it had tried. These advantages included sound transparency, stage image, sound layers and synchronisation with other devices, including HDTV features. Additionally, Merging hardware did not require continuous replacements, only the Pyramix software required updating.
In 2012, the parent Shanghai Media Group (SMG) required that all Motion Magic DAWs must connect with its Avid ISIS 5000 network as all postproduction studios were to be included in the network. As Motion Magic was reluctant to relinquish use of Merging's DAW some fine-tuning enabled systems to meet the ISIS 5000 networking requirements. August 2013 brings the first phase of further upgrades, with two of the three existing Pyramix systems moving from v6 to v8 software, and the corresponding addition of VCube software. The existing Mykerinos board will be replaced by a Horus system, including new computer hardware and two Smart AV Tango 2 20-fader controllers. The upgraded Pyramix systems will be placed in two postproduction studios with Ravenna network connections.
Iris is a scalable work surface, based around a Smart AV Tango 2, which features a 24-inch touchscreen interface, along with a range of I/O solutions using the Horus Networked Audio Interface. From there, the core of the system consists of a Pyramix MassCore (or Native) recording, editing and mixing system coupled with VCubeHD video playback and management application.
Motion Magic plays a prominent role in Chinese CGI, film, and broadcasting media, and the upgrades in its systems will serve as an important 'pilot' project for the region.
Shanghai Oriental Pearl TV will also be using full Iris systems for HDTV 5.1 production provided by Dolby China: foundation in the Chinese region for these platforms: 'This new Iris system is exactly what the Chinese market has been looking for and it is particularly pleasing that Motion Magic is leading the way because we enjoy such a good relationship with them,' says Weishen Xu, President of Merging Asia. 'Now that our major partners in China can see what Iris can do, we expect many more sales.'