Sister operations under Canada's Bell Medi, CTV-Montreal, its local affiliate and sports channel RDS (Le Réseau des Sports) share a production facility in Montreal, where a 48-fader Lawo mc²56 audio production console and16-fader remote bay have recently been installed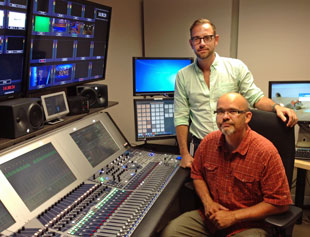 CTV-Montreal's new production capabilities are integrated with five mc²56 consoles used by RDS via Lawo's Nova 73HD router core, allowing the free sharing of resources between the studios. The desk operates with L-S-B Broadcast Technologies' Virtual Studio Manager (VSM) software and a Ross Overdrive automated production control system,
'Over the past two years, RDS has upgraded all of its facilities,' explains Bell Media Manager of Engineering Projects, Martin Côté. 'We introduced five new control rooms, all equipped with Lawo mc²56 consoles. All of the surfaces were linked together using the Nova 73HD router core.
'The idea was to be able to use any of the studios, feeds, cameras and so on, with any control room and Lawo surface,' he continues. 'To accomplish this, we needed to bring all of our sources into a central router – we used VSM to manage all of this. The system provides users with an intuitive GUI exposing only the tools they require for any given project. We recently added this sixth mc²56 console at CTV-Montreal with the same mindset – having the ability to share resources with the rest of the infrastructure.'
As a CTV affiliate, CTV-Montreal produces daily local news, while RDS provides a French-language sports TV service. With the resource management of the six control rooms, the system provides structural redundancy and offers flexibility for special projects, such as large sports events and elections. There is one redundant VSM system that services all of RDS and CTV-Montreal for XY control, Ross interfacing, studio delegation, camera tally delegation, and handling. 'The combination of the Lawo consoles and Nova 73HD routers provides great flexibility and a high level of redundancy,' says Côté.
'We like the great quality of the Lawo product, its expandability, its robustness, and being able to automate it thru VSM and Ross Overdrive. RDS already had a control room with Ross Overdrive, and this most recent control room at CTV-Montreal is also operated by Ross Overdrive,' he adds. 'Working from a central routing and control design penned by Francois Marier, the engineering team leader, our set-up provides a full interface with Ross Overdrive for automated operation in the studio and the small bay allows some direct manual intervention within the production control room. We needed a system that could be easily interfaced with Ross, and Lawo fitted the bill nicely.'
The new mc²56 console started production of HD news in June. 'The equipment has been running stable for the last two years now,' Côté reports. 'It's rare when you see such a big system operating with so little intervention. For all intents and purposes, this has been a set-it-and-forget-it set-up. And with everything being hot swappable, we really like how fast you can get yourself out of a jam. With Lawo's products and know-how, it's been a very positive experience.'
More: www.lawo.de