Soundcraft has launched a new Mixing with Professionals programme for its Si Series of digital mixing consoles. Building on its successful program for the Vi Series, the sessions will offer fully hands-on training, focusing on Soundcraft's Si Expression and Si Performer consoles.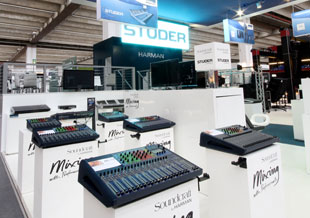 Mixing with Professionals Si Series training sessions will be hosted by factory-trained sales representatives across the US. Guest engineers will join also share their experience of Soundcraft consoles and provide additional training. The three-hour sessions will follow a classroom format of six "stations", with one to four people per station, working on either an Si Expression or Si Performer console.
'Our Mixing with Professionals programmes have been so popular that – combined with the success of our Si Expression and Si Performer lines – we have received considerable demand to expand them to include these products,' says Katy Templeman-Holmes. 'Training is free, and open to anyone wanting to learn, or to more advanced users looking for additional tips and tricks to get the most out of their Si consoles.'
Guests are asked to bring their own (minijack or quarter-inch) headphones to the sessions.