With six nationwide channels in operation and two more under development, Vietnam Television (VTV) is the largest broadcaster in Vietnam. Having been in operation for more than 40 years, the broadcaster is presently replacing its technical infrastructure including installing a new audio backbone.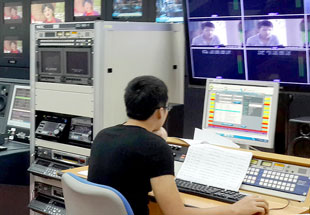 HD Vietnam designed and installed a Dante-based audio backbone, with VTV programming its eight SymNet Edge DSPs without additional assistance.
Each SymNet Edge frame has four slots that VTV loaded with an even split of four-channel digital input and four-channel digital output cards – these transport digital audio to and from a central server and the studios over AES. The Dante network connects the frames, effectively pooling all inputs, outputs and DSP into a single audio hub. In conjunction with the SymNet system, Ross Video audio de-embedders/embedders strip and re-associate audio with its respective video stream.
'A big part of what VTV was looking for in the new system was the ability to route any input to any output,' says HD Vietnam owner, Nguyen Huyen Dieu. 'The customer wanted full matrixing and audio processing on all channels. The SymNet Edge is a unique processing system – it is very powerful and flexible, yet easy to program. Symetrix has proven its reliability in the Vietnam broadcast industry through its long line of broadcast processors.'
Because VTV's programming is currently broadcast with multichannel audio to serve different dialects and because programme material frequently possesses only two-channel information, VTV uses the SymNet Edge processing for a smooth transitions between formats. Whenever programme material on channels three and four is absent, the SymNet Edge processor duplicates channels one and two on channels three and four.
'VTV is very happy with the capabilities of the SymNet Edge system, and the VTV engineers are also very happy with its ease of use,' Dieu reports. The broadcaster is already planning new HD channels that will employ SymNet Edge processing. If VTV grows beyond its current I/O count or DSP resources, it will be a simple matter to add I/O or more Edge frames and to connect them seamlessly to the existing system via the Dante network.
More: www.symetrix.co