Promoting Dags att tänka på refrängen (Time To Think Of The Chorus), their first album in nine years, Swedish pop-rock band Gyllene Tider (Golden Age) have seen between 10,000 and 40,000 fans attend every show on a major 19-date tour of their home country.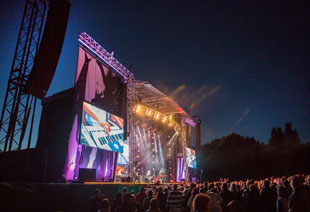 The tour is Sweden's largest of 2013, with all shows taking place in stadia, sports grounds and parks. For its sound, the tour featured a DiGiCo SD10 mixing console at FOH and an accompanying SD5 on monitors. The consoles were supplied – along with DiGiCo SD-Racks, microphones and monitors – by rental company Soundforce Scandinavia where Anders Molund, Gyllene Tider's FOH engineer, is also the company's Audio Project Manager.
'The SD5 was the first choice console for our monitor engineer Peter Fredriksson,' Molund says. 'To be honest, I used the SD10 because we are so busy at Soundforce, it was the only DiGiCo console with Optocore left in the warehouse. But I love DiGiCo mixers and, like the SD5, it's a great console. It's compact, easy to work with and had more than enough muscle for this tour.'
'DiGiCo also has a great habit of bringing out exciting new features in every software update. It makes the 'older' consoles feel very up to date – for example, we have one of the first SD8s in the warehouse and we use it a lot.'
The tour's stage feeds were routed to an SD-Rack configured as 56 analogue inputs with 48 analogue and eight AES outputs, with an Optocore digital link running to the SD5 and SD10, all running at 48kHz. A DiGiCo MaDiRack was linked to the SD10 to allow FOH and monitors for support act Linnea Henriksson to be mixed on it. The band used Sennheiser in-ear monitors, plus d&b wedges and shakers, while a Meyer Sound LEO system provided the main PA.
'They are not a 'channel hungry' act,' says Anders. 'I had around 40 inputs at FOH, plus some tie lines back and forth using the Optocore patch. Peter was doing around 10 stereo IEM mixes, a couple of wedge mixes and stereo side fills, plus sends to the shakers. In addition, I was using a DiGiCo UB Madi USB interface to make multitrack recordings of the shows on a PC running Reaper software.'
'It was incredibly successful. We had over 43,000 people in Gothenburg – that's not bad for a Swedish band that has not toured since 2004,' Molund says. 'The DiGiCo consoles performed faultlessly, so we had no need of the company's technical support. But it was reassuring to know how quick they would be to help – as they have been in the past – if we had needed them.'