As well as being the home of the central coordinating body for all of the Brunei's Governmental ministries and agencies, the new Prime Minister's Office contains a theatre and banqueting hall that each seat 1,000, a 300-seat conference hall and 13 further conference and meeting rooms. Covering 92,000m2 and costing more than £60m to construct, it calls on Yamaha digital mixers, loudspeakers and amplifiers to keep the audio inline with its status and operation.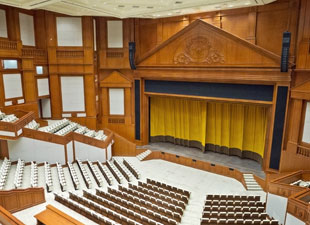 UK-based LSI Projects was invited to work with technology consultants CCW Singapore to fine-tune the plans for the sound, lighting and communications infrastructure. Once finalised LSI, under Project Director Bob Peill and Project Manager Jakub Krzeminski, supplied, installed and commissioned the equipment, as well as providing the required staff training.
Located in the country's capital Bandar Seri Begawan, the installation includes two Yamaha M7CL-48 V3 and two LS9-32 digital mixing consoles, along with six MSP 7 studio loudspeaker monitors, seven IPA8200 and five XM4080 power amplifiers. The M7CLs were installed in the theatre and banqueting hall, with one LS9 in the conference hall and the other serving as a 'mobile unit' for use wherever required.
'The Prime Minister's Office is a major venue for international heads of Government meetings and attracts large numbers of visiting media representatives, so the technical facilities were designed to the highest broadcast standards for real-time reporting of events,' Krzeminski says. 'CCW chose the Yamaha mixing consoles because of their reliability and local support, while we chose the amplifiers because of their quality and excellent cost-effectiveness.'
More: www.lsiprojects.com
More: www.yamahacommercialaudio.com