Now serving up popular US TV content and 15.5 hours of local weekly content from new production facilities in Downtown Montreal, City Montreal (CJNT) is using two Lawo V_pro8 video interfaces.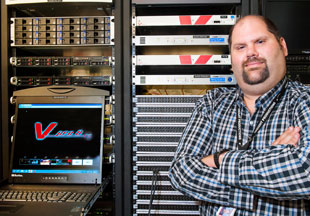 'We needed a product with the V_pro8's functionality, and the Lawo units not only offered us a compact and powerful solution, they provided features including two downmixers, web-based viewers with proxy images and Madi ports that enabled us to directly interface the new equipment with our audio network,' explains Keith Beaulieu, CJNT's Director of Special Events - Technical Design/Manager of Engineering. 'They are already proving themselves to be a very important part of our broadcast/media production and distribution operations.'
The new studio went to air on 16 August 2012, with the V_pro8 video processors integrating a variety of technologies. The studio boasts a Ross Vision switcher, XPression 3D HD CG/Motion Graphics System, NK router, Sony cameras, Quantel editing systems, and WSI weather and traffic systems – all controlled under a Ross Overdrive studio automation system.
'The fact that this was a start-up operation and we required an efficient way to distribute, embed and de-embed our audio signals in a cost-effective manner, married with the fact that we also needed to process our video signals, made the Lawo V_pro8 series processors the logical choice,' Beaulieu says. 'I'm not aware of any other system that has the power of the Lawo V_pro8. The system's ability to downmix any incoming 5.1 audio feed to stereo was also a requirement and the V_pro8 handles this with ease.
'The V_pro8 was the logical choice when City Montreal was being planned,' he comtinues. 'The Lawo engineering team clearly put a lot of creative thinking into the V_pro8 and the implementation of its many features makes it the right product for our requirements. In terms of its productivity, the V_pro8 solution paid off immediately—enabling us to be cost effective in our planning without sacrificing any flexibility.'
With new equipment installed and operational, Beaulieu says he is pleased with the station's investments: 'These processors are smart, intuitive, and flexible,' he says. 'I'm using them to take feeds from external sources and time them into the video switcher, and I'm also to rip out the embedded audio to Madi. The ability to downmix in the same box twice per engine is a tremendous asset – it reduces a step that we would normally have to take with yet another piece of hardware. Then being able to send that out over Madi is pretty cool.'
More: www.lawo.de