US full-service live event production provider Pro Production Services is using Powersoft K10 DSP+KAESOP power amplifiers with EAW's GreyBox in order to pair any of its loudspeaker systems with the amplifiers. The partnership between Powersoft and EAW enables both companies to integrate EAW's proprietary DSP algorithms into K Series power amplifiers fitted with DSP modules.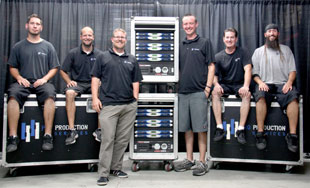 'The main reason that we purchased the amplifiers was because of the Greybox implementation,' confirms Donovan Mote, Pro Production Services Director of Operations, a. 'We have several hundred EAW products, and when we were introduced to the Greybox processing we were blown away with how much it improved the performance of the products.
'We like the ability to take any of our amplifiers and deploy them with any speaker system that we have. So having processing built into the amplifiers and being able to recall that at any particular gig really appealed to us. Not having to have an external processor really fit in well with our methodology.'
The Arizona-based company has purchased 12 Powersoft K10 DSP+KAESOP power amplifiers, which operate under Powersoft's Armonía Pro Audio Suite software. In more complex systems Pro Production Services uses a processor for overall system control: 'But often I'll use the grouping function in Armonía to fine-tune the different zones being powered by Powersoft,' Mote adds.
Paul Hugo of Marshank Sales introduced Pro Production Services to Powersoft's Greybox implementation at a demo in Phoenix, Mote recalls: 'Paul invited us to bring our current products and to compare them both functionally and sonically. We took a passive two-way box and the amps that we had at the time and did a full range listening test against the Powersoft amps. The K Series amp with no processing made a stunning improvement to the sound – it had a wider frequency response, it seemed to have more depth and it was a little bit more three-dimensional. That was a good indication that the amp was going to perform well for us.'
Unlike typical 'black box' software, which blocks user intervention, EAW's Greybox algorithms, as implemented in Powersoft's K Series amplifier DSP, allow access to certain parameters, including EQ and signal delay. Standard Powersoft technologies such as universal switch mode power supplies with Power Factor Correction (PFC) and patented class-D technology further improve sonic performance. Powersoft's optional DSP cards additionally offer users Active DampingControl, LiveImpedance Measurement, TruePower Limiter and other unique functionality.
Pro Production Services proves clients throughout the Southwestern US with a variety of audio, lighting, staging, power, backline and video services. 'We do it all,' says Mote. 'But the forté of our office in Phoenix is audio. We're pretty diverse, which I really am proud of. We do a lot of large format PA work such as festivals, we do a fair amount of corporate work and special events, we do high school graduations, and we do a lot of political events. We've worked for the White House a couple dozen times.
'We can go from an outdoor festival where we're in the middle of a mud pit to a televised political event a couple of days later, so it requires a lot of work on our part to keep the gear in good shape,' he continues. 'We pride ourselves on having very well maintained gear that's reliable. Powersoft has certainly helped us in that regard. We haven't had any mechanical issues with them.'
More: www.powersoft-audio.com
More: www.eaw.com