Bollywood music producer and mix engineer Eric Pillai has installed a Solid State Logic Matrix SuperAnalogue mixing console at his Future Sound of Bombay studio. Selected for use on film scoring projects, the new desk is equipped with a software-controlled patchbay and multi-layer DAW control, and takes the central role in Pillai's Nick Whittaker-designed facility.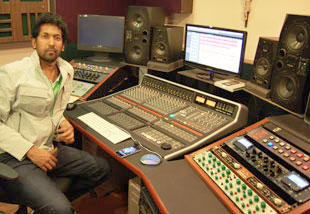 Having spent several years working 'in-the-box', Pillia moved into a two-room facility of his own in 2011: 'I first started working in the box around 1999/2000, but found working with a mouse to be very frustrating and boring,' he says. 'When I set up the Future Sound Of Bombay, I decided that I needed a console – that was when Shiv Sood [of SSL distributor, Sound Team] told me about the Matrix…
'I thought it was great, because I could set it up the way that I want it. I'm able to incorporate external EQs and effects. I installed an X-Rack system, together with some other compressors and stuff, and I've got a second X-Rack coming soon, so the Matrix is allowing me to build up the studio the way that I want it. I've got my analogue section and I've got my DAW control, so I'm using both.
'I used to work in my bedroom on my computer, but when it came to mixing I used to carry my DAW and I/O to a local SSL studio to get all of the tracks out onto the console and then back again,' he continues. 'The board did something, you know? The punch was there.'
The arrival of the Matrix has brought SSL summing into his studio with added control: 'The whole summing thing and headroom thing is working for me, I just go with what I'm hearing, and I can hear that it's slightly wider, warmer, and a little bit spongy, which is great. Now everything is also on the fader, which allows me to really feel what I'm doing too.'
Pillai's sound is part of what brought his clientele came to him in the first place and keeps them coming today at Future Sound Of Bombay: 'All the guys who've come to me have stayed with me during the past 12 years because of the punch, power, and colour that I've given them. Using my SSL setup it still sounds great.'
When the International Indian Film Academy (IIFA) announced the winners of the Technical Awards categories for this year's IIFA Awards, Eric Pillai (Future Sound Of Bombay) bagged the award for Best Song Recording for 'Ala Barfi'.
For Pillai, it's 'a dream come true' – one that began the promo video for The Police's 'Every Little Thing She Does Is Magic', which saw the band dancing around the SSL 4000 console in Sir George Martin's Air Montserrat recording studio. He claims that it was this that inspired him to study sound engineering in London before returning in 1996 to train at Galactica, a truly world-class recording studio within Famous Studios, a postproduction facility that has been part of the foundations of Indian cinema and television since 1946.
His time at Galactica and subsequent work at Spectral Harmony in Mumbai allowed him to develop his ambition for Future Sound of Bombay, and he still has eyes on eventually owning a large-format SSL console: 'My rooms right now are 12-ft by 10-ft, and I'm on the fourth floor of a building, so I can't get anything bigger. I'm just waiting for the right property, but once that happens I'll definitely get a bigger board.'